Ceviche with avocado
Avocados
---
This ceviche is such a fresh and bright dish. It has simple everyday ingredients and will take you 15 minutes to get it on the table.
I adore using our avocados in this dish and the creamy texture is so complimentary to the fish and citrus. Serve it on top of corn chips you really are knocking it out of the park!
A couple of quick tips:
Don't over mix it, the tomatoes and avocado present better when not constantly mixed and prodded.
Don't be scared! Using the citrus juice cures the raw fish and gives it that incredible flavour without having to cook anything!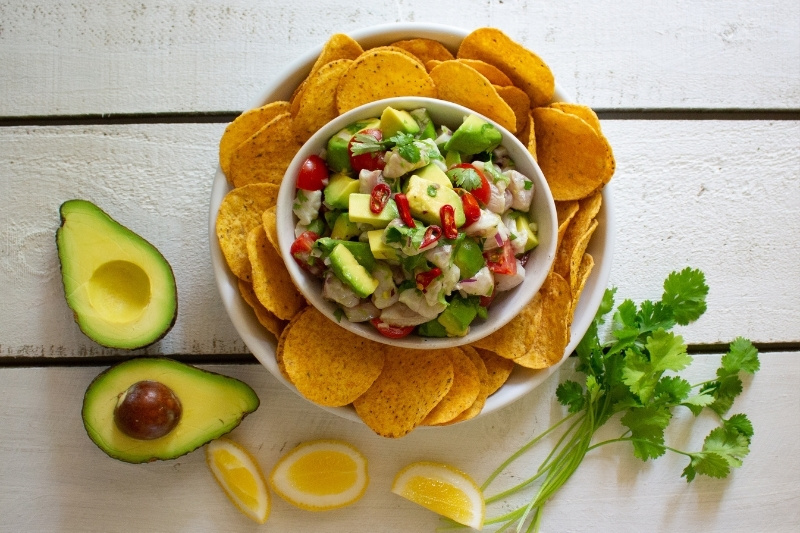 Ceviche with avocado
INGREDIENTS
400 grams white fish (I used gurnard)
2 avocados
big handful coriander
½ cup lemon or lime juice
150 grams tomato
¼ red onion, finely diced
seasoning, I used pepper and Man Grind (Rock salt spiked with chilli, garlic and citrus)
chilli, optional
corn chips to serve
DIRECTIONS
With a good sharp knife, slice your fish into approx 1.5cm cubes and place in a bowl.
Add your red onion to the fish.
Now add your lemon juice & seasoning. The fish needs around 10-15 mins to "cure" in the citrus.
Next, cut your tomatoes and add them to the fish.
Roughly chop your coriander and add this too, but don't stir it yet, as you don't want everything to break up and become mushy.
Finally, chop your avocado into large chunks and add these to the fish. Stir through gently and taste the mix to see if it needs more seasoning.
Now you are ready to serve with corn chips and delight in your ceviche making skills! Serves 2-4