Avocado Mint Chocolate Chip Ice-Cream
---
This smooth, delectable ice-cream recipe comes from Nadia Lim's fantastic Vegful. The avocado flavour is very subtle, but it lends the ice-cream a lovely silky texture.
Prep time is only 15 minutes and it serves 8-10.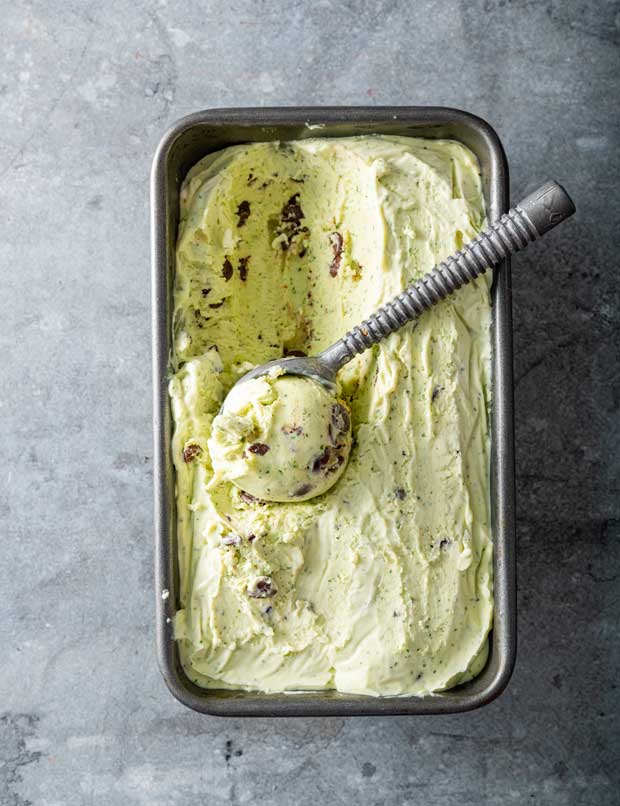 Avocado Mint Chocolate Chip Ice-cream
Ingredients
1/2c tightly packed mint leaves
395g can sweetened condensed milk
1T vanilla bean paste or sees of 1 vanilla bean
pinch of salt
flesh of 1 large or 2 small to medium ripe avocados
1t peppermint essence
2c (500ml) double cream
1c dark chocolate chips or roughly chopped dark chocolate
Directions
1. Place mint leaves in a bowl, cover with boiling water for one minute, then plunge into cold water (this helps to brighten and soften the mint). Drain well.
2. Blend condensed milk, vanilla, salt, avocado, peppermint essence and blanched mint leaves in a blender or food processor until smooth.
3. In a large bowl, whip cream (with a hand whisk or an electric beater) to soft peaks.
4. Spoon avocado mixture into the bowl of whipped cream, add chocolate and fold everything together with a large metal spoon until combined, taking care not to overmix in order to keep the mixture as light and airy as possible.
5. Spoon mixture into a large loaf tin or medium dish, cover with clingfilm touching the surface of the mixture (this will help avoid discolouration) and freeze for 6-8 hours or overnight until firm.