Pink Grapefruit Curd Tartlets
Grapefruit
---
These gorgeous Pink Grapefruit Curd Tartlets are a perfect treat to share with your special someone. The zingy yet sweet citrus taste is delicious.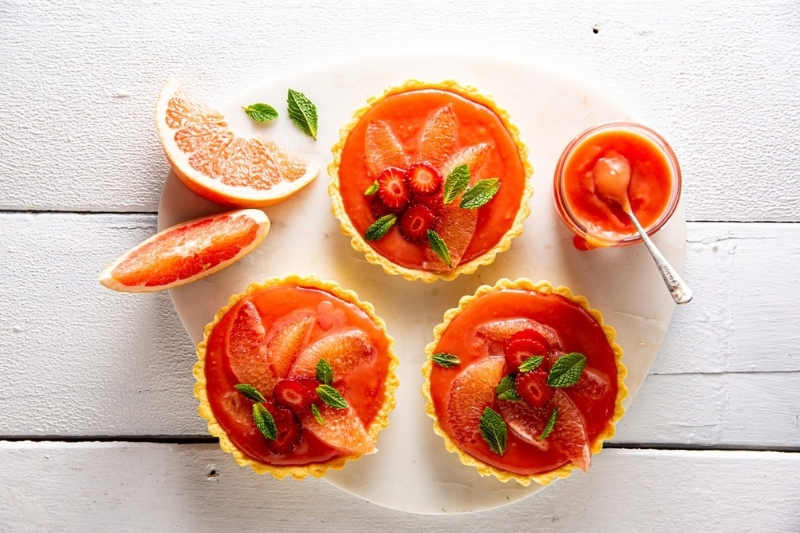 Pink Grapefruit Curd Tartlets
INGREDIENTS
140g plain flour
1 tablespoon icing sugar
85 butter, diced
1 egg yolk
1 tablespoon pink grapefruit juice
1 large pink grapefruit, finely grated rind and juice
2 lemons, finely grated rind and juice of
4 eggs, beaten
220g caster sugar
115g unsalted butter, diced
To garnish,
1 x pink grapefruit, peeled and segmented
3-4 strawberries
Fresh sprigs of mint
DIRECTIONS
Sift together the flour and icing sugar. Rub in the butter until mixture resembles fine breadcrumbs. Stir in the egg yolk, grapefruit juice and enough cold water to form a smooth dough. Wrap in beeswax wrap and chill in the refrigerator for 30 minutes.
Meanwhile, place the grapefruit and lemon rind and juice, eggs, sugar and butter in a heatproof bowl standing over a pan of simmering water.
Stir gently, for 5 minutes until the sugar has dissolved, then continue cooking gently for 20 minutes or until the curd thickens. Remove from heat and leave to cool.
Preheat the oven to 220°C. Grease 4 x 10cm individual fluted flan tins with butter or spray oil. Roll out the pastry on a lightly floured surface and use to line the tins.
Line each one with baking paper and baking beans and place in a pre-heated oven and bake blind for 10 minutes. Remove from the oven, remove paper and beans, then return to oven for a further 5 minutes or until lightly browned. Leave to cool.
Fill the cases with the grapefruit curd, top with the grapefruit segments, decorate with strawberries and mint and serve immediately.
Note: if you have any grapefruit curd left over, simply transfer it to a sterilised jar, cover, label and store in a cool place for up to a month.