Green apple and lime slice
Limes
---
This easy and delicious green apple and lime slice will be a family favourite!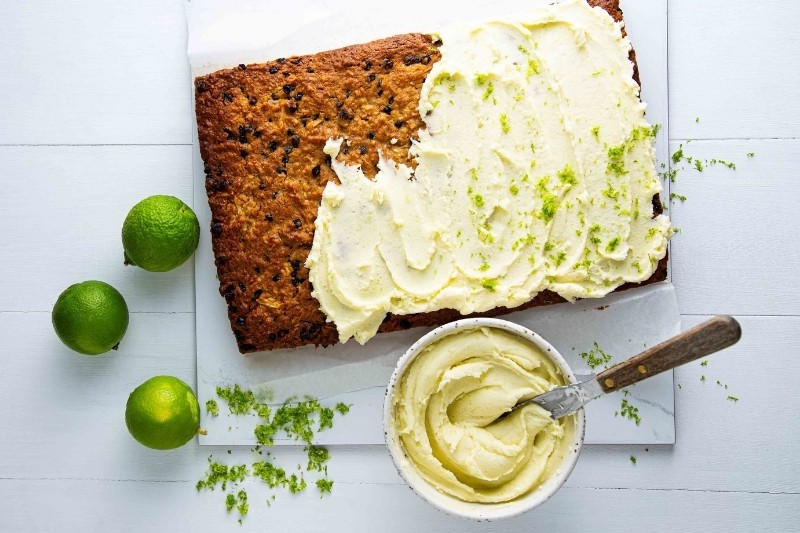 Green apple and lime slice
Makes: 20 pieces
SLICE INGREDIENTS
2 medium granny smith apples
2 limes, finely grated zest and juice of
250g butter
3 tablespoons golden syrup
2 cups self-rising flour, sifted
2 teaspoons cinnamon
1 cup brown sugar
2 cups desiccated coconut
1 cup sultanas
1 cup currants
2 eggs
LIME BUTTERCREAM FROSTING INGREDIENTS
120g butter, softened
1 teaspoon vanilla extract
1 lime, finely grated zest and juice of
¼ teaspoon salt
450g icing sugar, sifted
1-2 tablespoons milk
DIRECTIONS
Preheat oven to 180°C. Line a slice tin with baking paper.

Peel apples, grate coarsely into large bowl.

Mix in the lime zest, and 2 tablespoons lime juice.
Melt the butter and golden syrup together in a small saucepan. Place sifted flour and cinnamon, sugar, coconut, sultanas and currants into the large bowl with the apple and lime.
Add butter and syrup mix, to the large bowl with the dry ingredients and mix together with the lightly beaten eggs. Mix well. Spread into the tin, bake in the oven for 40 minutes until cooked.
Cool in the tin. When cold, ice with lime buttercream icing and cut into squares.
To make the lime buttercream, Beat the butter with an electric mixer until creamy. Add the lime zest and juice, vanilla extract, salt and blend together. Mix in the icing sugar a little at a time, until well combined. Loosen the icing with the milk, to make it spreadable.
Keeps very well and stays moist for as long as it lasts.