Lime and blueberry crepes
Limes
---
Who knew that blueberry and lime is a marriage made in heaven?
These thin crepes are buttered, then topped with a squeeze of fresh lime, a fine dusting of caster sugar and a syrupy line of whole blueberries, then rolled – kids will love them.
Or make ahead and dust with icing sugar for a simple dessert. If you're feeling really indulgent, make up the lime mascarpone and add a smear before the blueberries.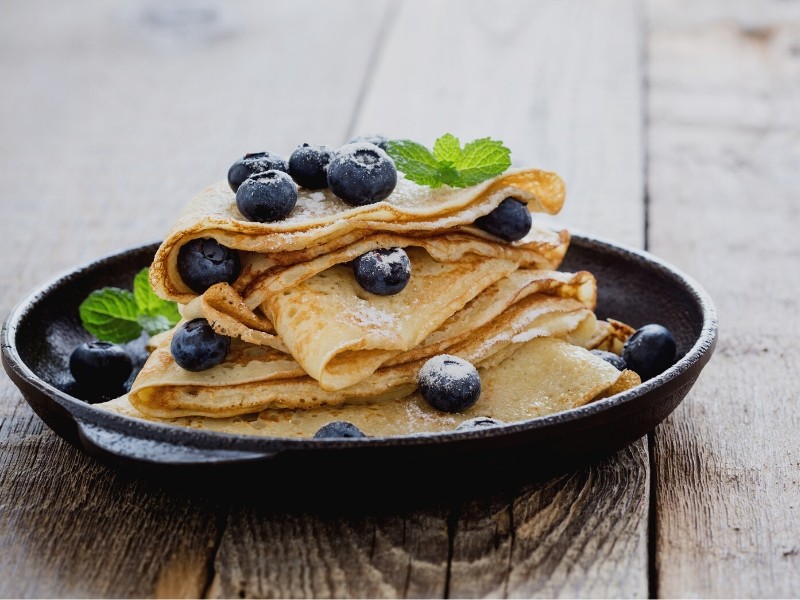 Lime and blueberry crepes
INGREDIENTS
2c plain flour
pinch of salt
2 eggs, beaten
enough milk to mix to the consistency of pouring cream
TOPPINGS
limes - cut in half for squeezing juice onto crepes
caster sugar
butter
1c frozen blueberries
2T caster sugar

(OPTIONAL)
250g mascarpone
zest of 2 limes
1T icing sugar
DIRECTIONS
Whisk the flour and salt with eggs and 1.5c milk, adding more until you reach a consistency of pouring cream. Set aside. Gently heat the blueberries and 2T caster sugar in a small saucepan until the sugar has dissolved and the blueberries are warmed through. If including, mix the mascarpone with the lime zest and sugar and set aside.
Heat a non-stick pan (whatever size you prefer for large or small crepes) and spray/coat lightly with canola oil. Once the pan has reached a moderate temperature, pour in enough crepe mixture to coat the inside of the pan as you rotate it. Wait until the sides lift slightly and then flip. Cook the other side for a minute or two and place the crepe either straight onto the plate of a happy recipient, or onto a plate to set aside. Keep warm by covering with a clean tea towel. Repeat the process until all the batter is gone.
To assemble: Butter the inside of the crepe (the second side to cook), squeeze lime juice to coat, sprinkle with about 1t of caster sugar, smear with a little lime mascarpone if using, then add some blueberries and syrup so that you have a single line of blueberries across the centre of the crepe, then roll up and enjoy. If serving together, assemble all the crepes, place side by side on a serving dish and dust with icing sugar before serving.