Avocado and crispy cauliflower tortillas with chilli black beans
Avocados
---
Plant-based meals are easy to put together, especially with avocados in the house. Crumbing and deep-frying cauliflower makes a tasty alternative to seafood or meat.
If you do or don't like the spice, use more or less of the hot chilli sauce.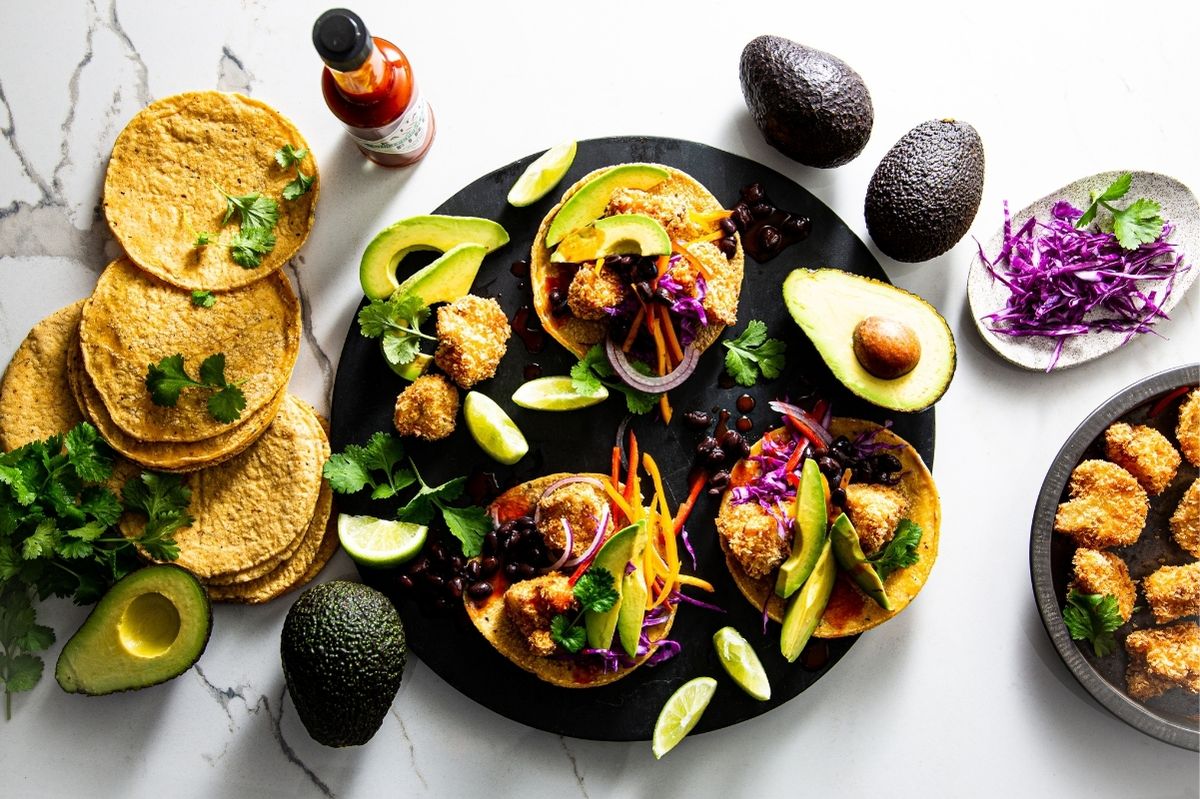 Avocado and crispy cauliflower tortillas with chilli black beans
INGREDIENTS
1 head of cauliflower, cut into florets
½ cup plain flour
2 eggs, beaten
2 cups panko crumbs
¼ teaspoon chilli powder
salt and freshly ground black pepper
4 cups vegetable oil, for frying
400g black beans, drained
2-3 teaspoons Tabasco or chilli sauce (Kaitaia Fire)
¼ cup snipped herbs, chives, coriander, parsley or mint
8-10 fresh corn tortillas (La Tortilla)
2-3 mini sweet peppers, thinly sliced
¼ red cabbage, thinly sliced
2 avocados, peel and stone removed
Garnish, coriander leaves and lime wedges

DIRECTIONS
Cut cauliflower into bite-size florets. Nex mix the panko crumbs with the chilli powder. Dust each of the florets into the flour, then dip in the beaten egg. Finally, coat in the spiced panko crumb mixture.
Heat the oil to 180°C in a deep saucepan or home deep fryer. Fry the crumbed cauliflower pieces 3-4 at a time, for 2-3 minutes, until golden brown. Drain on absorbent kitchen paper. Cover and keep warm in the oven until ready to use.
Prepare the beans, drain, and tip beans into a small bowl. Add 2-3 teaspoons tabasco sauce and finely chopped herbs. Mix well to combine.
Prepare the remaining vegetables, by thinly slicing the red cabbage, sweet peppers, and avocados.
Heat a flat grill plate or heavy-bottomed frying pan until hot. Place the fresh tortillas, one at a time on the grill plate. Spritz with a little water. Heat for 20-30 seconds on each side. Place between a warm tea towel, until ready to serve.
Arrange on each corn tortilla a spoonful of black beans, topped with one to two pieces of crumbed cauliflower, thinly sliced red cabbage, peppers and top with slices of avocado. Garnish with fresh coriander leaves, extra Tabasco sauce, and accompany with lime wedges. Serve immediately.