Avocado salad with broccoli, almonds, blue cheese and blackberries
Avocados
---
Every now and then we need a salad that is so nourishing, that every mouthful feels like it is an explosion of taste and goodness. This is such a salad, packed with "superfoods" like avocados, broccoli and almonds, and topped off with tangy autumn blackberries.
It can be made all year round, just change the fruit to blueberries, kiwifruit or even mandarins.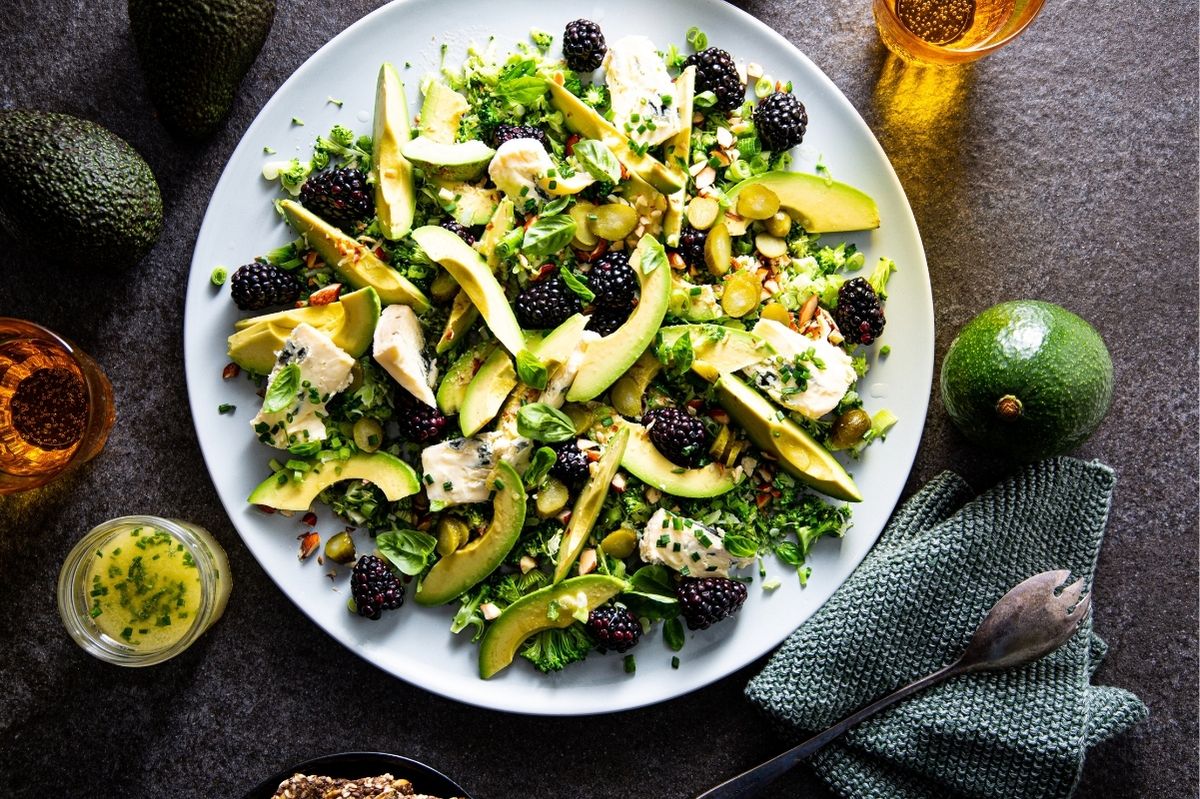 Avocado salad with broccoli, almonds, blue cheese and blackberries
INGREDIENTS
1 large head broccoli
2 Reed or Hass avocados, peeled
1 lemon, juice of
200g creamy blue cheese (optional)
6-8 baby gherkins or cornichons
200g tamari almonds, roughly chopped
2-3 spring onions, finely sliced
200g blackberries
To garnish, fresh basil leaves or mint, chervil or parsley
LEMON & CHIVE DRESSING
1 lemon, juice and finely grated zest of
1 tsp golden caster sugar
1 tsp salt
½ tsp ground black pepper
1 tsp mustard powder
2 Tbsp snipped chives
¾ cup extra virgin olive oil


DIRECTIONS
Cut the head of broccoli into florets. Place the florets in a large food processor bowl, include parts of the stalk to reduce wastage. Blitz the broccoli for 10 seconds, until diced into smaller pieces. Alternatively, use a sharp knife to finely chop the broccoli floret into small pieces. Place in a large bowl and pour over boiling hot water. Leave to blanch for 3-4 minutes, before draining and refreshing in ice cold water.
Drain the broccoli. Make the dressing, by mixing together the lemon juice, zest, sugar, salt, pepper and mustard powder in a small jug or glass jar with a lid. Add the chives and olive oil, and then whisk together well, or seal jar with a lid and shake well until the dressing has emulsified.
Use half of the dressing to pour over the broccoli and toss well to combine. Spread the broccoli over a large platter. Peel and slice the avocados, removing the stone, and using lemon juice to stop the browning of the slices. Arrange the avocado slices over the broccoli.
Next arrange slices of the blue cheese, gherkin or cornichon, on the top. Sprinkle over the chopped almonds and spring onions and arrange the blackberries over the top.
Drizzle all of the salad with half of the remaining dressing and garnish with fresh herbs. Serve with your favourite meat dish, bread, crackers and accompany with remaining dressing.