Passionfruit and yoghurt cupcakes
Passionfruit
---
For great tasting cupcakes, passionfruit wins. The tangy, tropical taste of passionfruit is complimentary with creamy yoghurt and crème fraiche icing.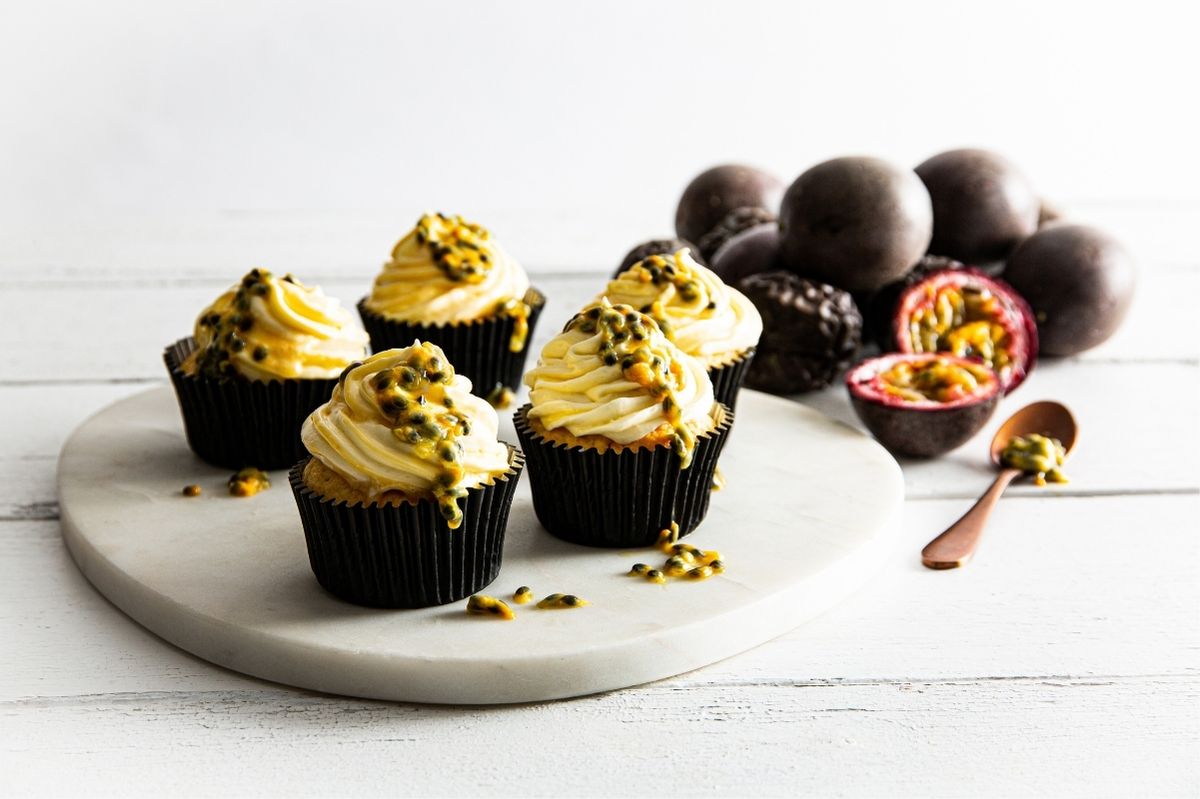 Passionfruit and yogurt cupcakes
INGREDIENTS
3-4 passionfruit
1 cup Greek-style yoghurt
125g butter, softened
1 tsp finely grated lime rind
220g caster sugar
3 eggs, separated
300g self-raising flour, sifted
PASSIONFRUIT CREME FRAICHE ICING
250g crème fraiche
250g cream cheese
1 cup sifted icing sugar
2 Tbsp passionfruit or lemon curd
PASSIONFRUIT SYRUP
110g caster sugar
wide strip of lime rind
2 passionfruit, pulp of
DIRECTIONS
Preheat oven to 180°C. Prepare 12 hole muffin case tin with paper or silicon cupcake cases.
Strain the pulp of the first passionfruit through a fine sieve. Reserve the juice. Mix ¼ cup passionfruit juice with the Greek yoghurt.
Beat the butter, lime rind and sugar, using an electric mixer in a large bowl until light and fluffy. Add egg yolks, one at a time, beating well after each. Add half the sifted flour and half the combined passionfruit juice and yoghurt in two batches, beating until just combined.
Beat egg whites until soft peaks form, using an electric mixer. Fold egg whites into yoghurt mixture in two batches.
Spoon mixture into cupcake cases, filling two-thirds full. Bake at 150°C for 25 minutes or until a skewer withdraws clean. Stand cupcake in tin for 5 minutes before transferring onto a wire rack to cool. (Makes 24)
To make the icing, blend together the crème fraiche, cream cheese, icing sugar and passionfruit (or lemon) curd. Mix until sugar has dissolved and well combined. Leave to chill in fridge until ready to use. For passionfruit syrup, place sugar, lime rind and half cup water in a saucepan, bring to the boil over medium heat, stirring, until sugar dissolves, add passionfruit pulp and simmer for 6-8 minutes, skimming frequently, then remove lime rind. Pour hot syrup over cooled cupcakes.
Ice the cupcakes with the crème fraiche icing when cooled. For extra flavour, spoon over a little fresh passionfruit pulp.