Indian Lime (Or Lemon) Pickle
Lemons
---
This recipe was shared on Radio New Zealand by Kirsten Day and is a low-oil lime pickle that can also be made with lemons.
Heating the spices is a crucial step with fantastic aromatics.
Best served with your favourite curry.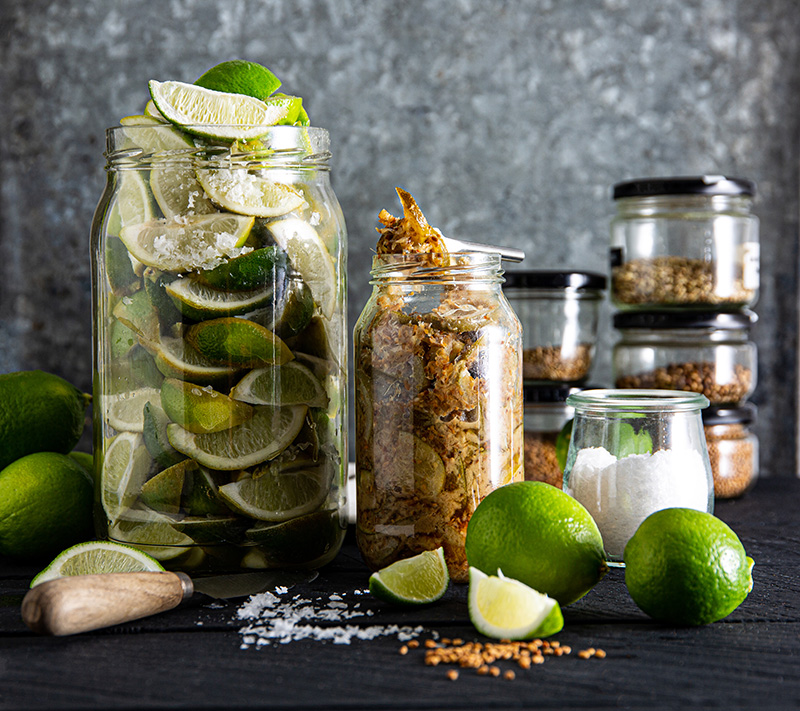 Indian lime pickle
INGREDIENTS
6 limes (or 5 lemons)
1T salt
2T vegetable oil
2t fenugreek seeds
2t fennel seeds
2t mustard seeds
1t cumin seeds
1t coriander seeds
3 cloves garlic, finely chopped
1cm fresh ginger, peeled and grated
½t chilli powder
¼c water
60g brown sugar
2T white vinegar
DIRECTIONS
Cut the limes (or lemons) into wedges (eighths). Place into a large bowl and sprinkle with salt. Cover with a clean tea towel and set aside in a cool, dry place, stirring occasionally, for two days.
Heat the oil in a medium-sized saucepan over a medium heat. Add the fenugreek, fennel, mustard, cumin and coriander seeds. Cook for 30 seconds or until the seeds start to pop.
Remove from the heat and grind to a smooth powder using a mortar and pestle.
Return the spices to the pan and add the garlic, ginger and chilli powder. Stir for 30 seconds over the heat until aromatic. Be careful not to overcook the garlic or it will become bitter.
Stir in the salted lime/lemon mixture, water, sugar and vinegar, and bring to the boil. Reduce the heat to low, and simmer, stirring occasionally, for 15 minutes, or until the mixture is thick.
Spoon the mixture into a hot, sterilised glass jar. Seal and invert the jar for two minutes, before labelling. Set aside in a cool, dark place for one week to develop the flavours. Keep in the fridge after opening.
Makes 1x 300g jar.