Fragrant Chicken Laab Salad
Limes
---
If you have never tried laab – a flavour-packed minced meat salad from Laos that's also eaten in Northern Thailand – you have got to try this recipe!
It is traditionally served at room temperature and is referred to as a salad, but that does not do this exceptionally delicious meal justice.
Made with pork or chicken and infused with lemongrass, fish sauce and lime, your tastebuds aren't going to forget this meal in a hurry.
Serve it with lime wedges, green beans, fresh herbs, crunchy lettuce or cabbage leaves, or make a more substantial meal by serving it with rice.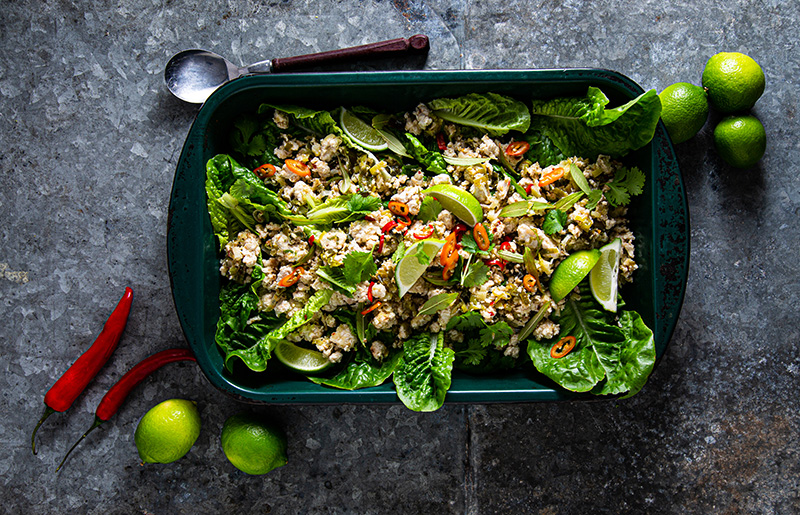 Fragrant Chicken Laab
INGREDIENTS
1T jasmine rice
1 garlic clove, minced
1 lemon-grass stalk, white only, finely chopped
1 green chilli, finely chopped
2T light-flavoured oil
500g chicken mince (pork can also be used)
3 spring onions, finely sliced
2t caster sugar
1.5T fish sauce
4T lime juice
1t dried chilli flakes
bunch coriander leaves picked
OPTIONAL - TO SERVE
2 cos lettuces, broken into leaves / 1 small cabbage, cut into eighths
2 limes, cut into quarters
200g green beans, cut into 3cm lengths
1 bunch Vietnamese mint or regular mint, leaves picked
sticky rice or steamed jasmine rice
extra chilli flakes or crushed fresh chilli
DIRECTIONS
Toast the rice in a small pan over a low to medium heat, stirring regularly, until the rice is lightly toasted. Pound with a pestle and mortar until it reaches a fine sand-like consistency. Set aside. Using the mortar and pestle, pound the garlic, lemongrass and green chilli into a paste.
Heat a large pan over a high heat, add the oil and, when hot, add the mince and spring onion and cook until the mince is browned. Remove from the heat, add the garlic-chilli paste, sugar, fish sauce, lime juice and chilli flakes and stir to combine.
To serve, top with the coriander leaves and ground rice and accompany with whichever of the optional ingredients you like – all are excellent!
Serves 4