Lime and Coconut Delicious
Limes
---
This Bill Granger recipe is the ideal autumn pudding for when limes are just coming into season and the nights are closing in. The warm pudding has a light fluffy sponge on top and gooey custard beneath.
Thanks to Sam at Drizzle and Dip for the gorgeous photo.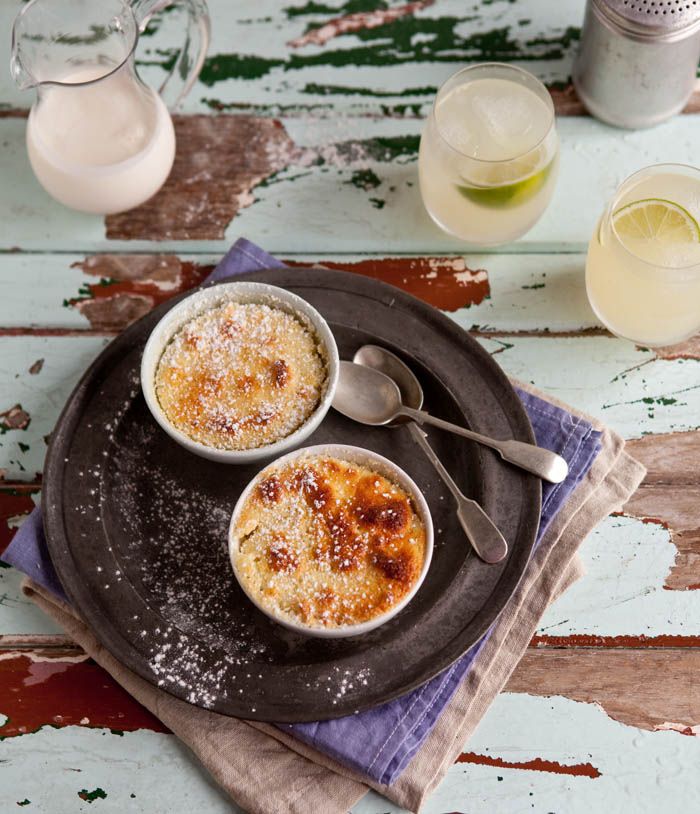 Lime and Coconut Delicious
INGREDIENTS
60g butter
200g caster sugar
4 limes, juice and zest
3 eggs, separated
125g self-raising flour
4T desiccated coconut
300ml milk
Icing sugar for dusting
Cream – to serve (whipped or poured)
DIRECTIONS
Preheat oven to 180C and grease either 6 individual ramekins or 1 larger (litre-size) oven-proof dish. Use an electric beater to mix butter and sugar until light and fluffy.
Add the lime zest, lime juice and egg yolks and mix to combine. Add the flour and desiccated coconut and mix again, then pour in the milk and mix to a smooth batter.
Beat the egg whites until just before they become stiff peaks. Gently fold one spoon of the whites into the batter mixture and, once combined, fold in the remaining egg whites. Pour the mixture into the prepared dish(es), then place in a baking tray half-filled with boiling water.
Cook for 20-25 minutes for the individual puddings or 40 to 45 minutes for the large pudding, until set and golden. Remove from the oven and dust with icing sugar before serving warm with cream.