Fruity Winter Warmer Ideas
---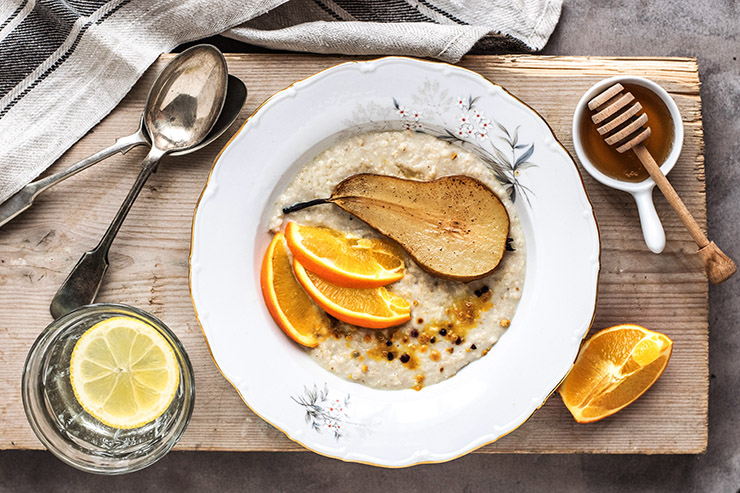 As the temperature cools down it gets harder to climb out of bed in the mornings. Often, by the time we've finished the day's jobs, the sun has already set and there is nothing left to do but crank up the heater (or stoke the fire) and hibernate for a bit.
We don't blame you if you feel like eating nothing but roast dinners, stews, and pizzas for the next four months.
But before you stock up on potatoes, don't rule fruit out just yet!
Instead, take a look at our best fruity winter warmer ideas to keep your taste buds satisfied until spring rolls around again.
Bake, Stew, Poach And Roast!
Poaching isn't just for eggs and roasting isn't just for potatoes!
Throwing some winter fruit into a pot or the oven only takes minutes but gives you a hearty, warming treat that can be eaten for breakfast, lunch, dinner, or a snack.
Try poaching pears by boiling water in a saucepan and cooking for 10-15 minutes. Sprinkle them with cinnamon and brown sugar or a drizzle of yoghurt, and you're good to go.
Or, for something a little different, you could even try poaching oranges, like we did here.
Stewing is the perfect way to use up excess winter fruit. Try rhubarb, apples, pears, or get experimental and throw some other fruit in the pot.
Baked apples can be a gourmet dessert or a quick snack. Scoop the insides out and mix with walnuts, crumble, or delicious flavourings. Or, simply chop them up, dust them with cinnamon, and throw them in the oven.
Ever tried roasting an avocado? If not, you're missing out. Roasting makes them even more creamy and is the ultimate winter comfort food.
Get Your Dessert On!
Winter desserts are the best! Crumbles and pies are super easy, and you can use almost any fruit to create one. think rhubarb, feijoa, pear, peach, kiwifruit, berries, and apple. Try our Lime and Coconut Delicious recipe.
Fruit salads aren't just for BBQ season. Try a warm fruit salad for a nutritious and healthy winter warmer. We like this recipe from 5+a day.
You can even bake fruity goodness into your lunchbox treats. Try our Date & Orange Scones, Feijoa Muffins, or Lemon and Lime Cake.
Cheers To Winter
Citrus fruits make for great winter beverages, with the added benefit of soothing sore throats and easing blocked noses.
Feel a cold coming on? Try adding half a lemon to hot water, add some grated ginger and a teaspoon of honey. If you're feeling adventurous, add a ¼ teaspoon of turmeric and a pinch of chilli powder or cayenne.
Enjoy a hot apple cider near the fire with a cinnamon stick for a touch of class. Or, for a lovely, refined drink, sample our Jasmine Tea Limeade.
Stay Smooth
Smoothie bowls aren't just for sunshiney beach days! Put a winter twist into your smoothie bowl by having it warm and stuff it full of winter fruits. Some of our favourites are the chai banana and cinnamon, the hot chocolate, or the butternut squash banana bowl featured here. You can even enjoy our signature Twisted Smoothie during winter as it is packed full of goodness!
So Saucy!
Fruit has the power to transform a range of dishes. Including your savoury meals. Jazz up your weekend brunch of eggs benny with a citrus infused Maltaise Sauce. Take the Sunday Roast to the next level by serving Lemon Chicken. Delight your tastebuds with an exotic Pork or Chicken Laab. Or, do something a little different by creating a Feijoa Paste to enjoy with cheese and crackers.
Get Fired Up
Don't throw your citrus peels into the compost just yet! Add some extra cosiness into your life by burning them. You can make aromatic citrus candles from used citrus peels, or dry them out and use them to start your winter fires! There are heaps of other uses for citrus peels, check them all out here.
As you can see, you don't have to give up on fruit when it's cold out. There are plenty of delicious options for enjoying fruit year-round. Check our SHOP to see what's on offer, and try out some of our great winter warmer ideas above.