Avocado & barbecued corn salad two ways (Mexican & Thai)
---
This versatile salad can be made in two different styles – a guaranteed crowd pleaser at your next barbecue. Assemble ahead of time and simply dress before serving. If making the Mexican salad, you can even crush and toss in some corn chips before serving to add extra crunch.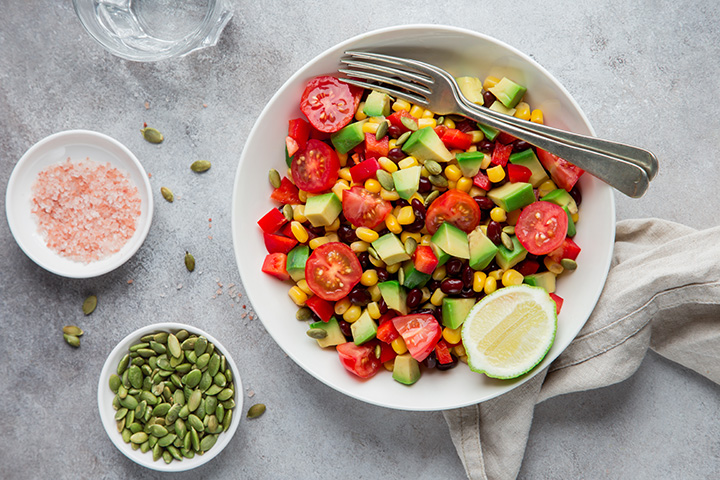 Avocado & barbecued corn salad two ways (Mexican & Thai)
Ingredients
4 cobs sweetcorn, cooked, barbecued/charred, kernels removed from the cob
2 ripe avocados halved, pitted, peeled and diced
1c cherry tomatoes, halved
6 spring onions, thinly sliced
1/2c finely chopped fresh coriander
1 large red capsicum cut into small strips
1/2c red onion, halved and thinly sliced
If making the Thai version add 1c shelled cooked and cooled edamame beans, 300g mung bean sprouts and 1/2c shelled roasted peanuts.
Mexican dressing
1 clove garlic, minced
1 jalapeño seeds and ribs removed, minced
Salt and pepper
Zest and juice of 2 limes
1/2c extra virgin olive oil
Whisk together all ingredients until combined.
Thai dressing
1c coconut milk
1/4c lime juice (about 2 limes)
2t ground coriander
1T fresh coriander
2t crushed garlic
1.5t fresh crushed ginger
1t finely chopped chilli (more if desired)
1t red curry paste
1/2t garam masala
1/2t sea salt
1/4t freshly ground black pepper
2t caster sugar
1t fish sauce
2T peanut oil
Gently heat coconut milk and peanut oil in a small saucepan and add other ingredients, stirring until blended. Set dressing aside to cool.
Directions
Toss all salad ingredients in a bowl with dressing of choice (adding the additional salad ingredients if making the Thai version). Serves 6.