Baked Grapefruit with Coconut Sugar
Grapefruit
---
If you're looking for a delicious warm breakfast or brunch, then we've got just the thing for you - baked grapefruit with coconut sugar, pistachios and microgreens. You'll feel like you are eating at a fancy cafe!

Grapefruit and coconut is probably not a combo you are familiar with but it's so delicious, you should really give it a try...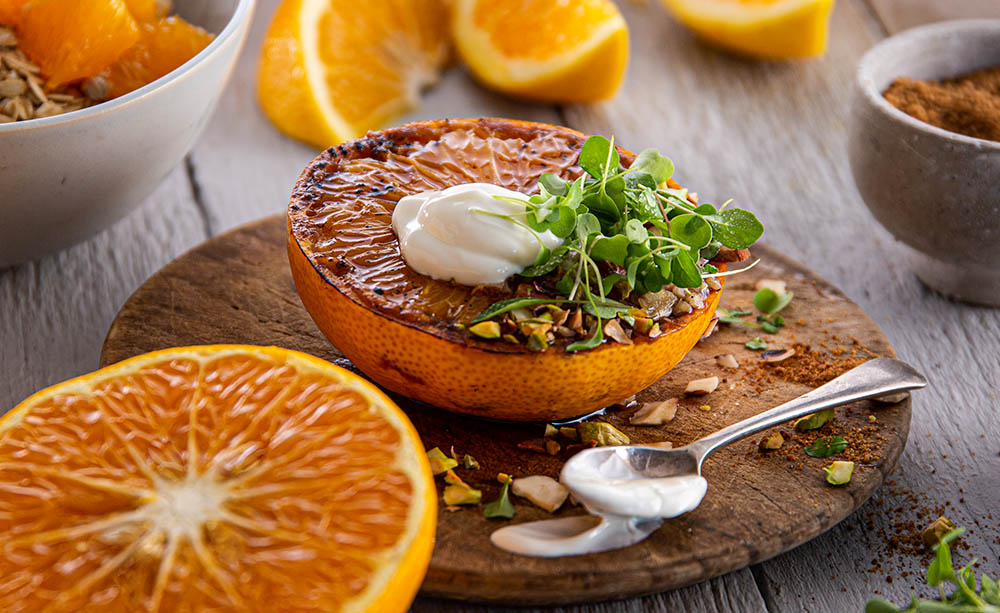 Morrison seedless Baked grapefruit with coconut sugar
(Serves 2)
INGREDIENTS
2 Morrison Seedless grapefruit
4 teaspoons butter
2 tablespoons brown sugar or coconut sugar
½ cup unsweetened yoghurt or coconut yoghurt
2 tablespoons chopped pistachios
DIRECTIONS
Preheat oven to 180°C.
Cut each grapefruit in half. Using a small paring knife, cut sections and loosen fruit from the skin.
Dot each half with butter and sprinkle sugar.
Place in baking pan and bake in preheated oven for 5 minutes, then grill under hot heat until top is bubbly, about 5 minutes.
Remove from oven and place in serving bowl with yoghurt and garnish with fresh microgreens and chopped pistachios to serve.