Orange, Carrot, Mint & Red Onion Salad
Oranges
---
Adapted from Anne Sijmonsbergen's cookbook, Eivissa, this pretty salad is a feast for the eyes with its bright orange hues - the addition of edible flowers and microgreens add to its allure.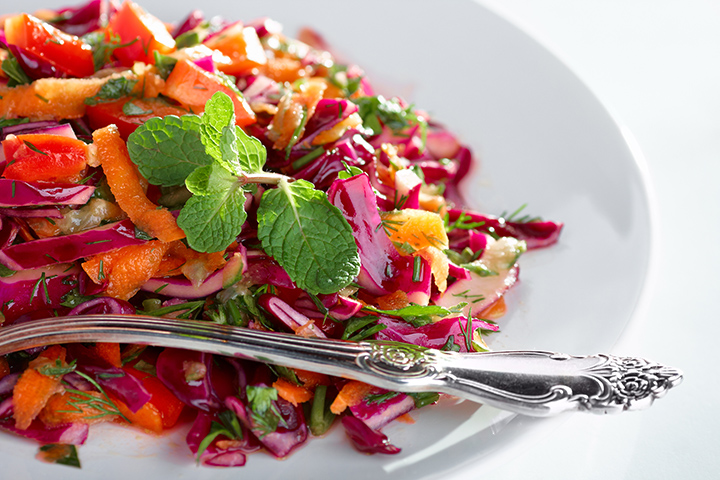 Orange, Carrot, Mint & Red Onion Salad
INGREDIENTS
½ small red onion, sliced paper-thin
6 carrots, peeled and coarsely grated
2 oranges, peeled and segmented (pith removed)
small handful of mint leaves, shredded into ribbons
1Tbsp orange juice
handful of yellow cucumber blossoms or other edible flowers such as nasturtiums, scarlet runner bean blossoms, or chives
handful of microgreens
DRESSING
3Tbsp extra virgin olive oil
1tsp red wine vinegar
pinch ground or freshly grated nutmeg
salt
freshly ground black pepper
DIRECTIONS
Soak the onion slices in a bowl of ice-cold water for 20 minutes, then drain and pat dry. Put all the dressing ingredients in a jar, seal with a lid and shake to combine.
Combine carrot, orange segments and onion in a bowl and toss with 1½Tbsp of the dressing, taste, season and toss again. Add the mint leaves and orange juice and toss once more. Adjust seasoning and add more dressing if desired.
Serve on a platter scattered with flowers and microgreens.