Crispy Chicken with Orange Miso Sauce
---
The Orange Miso sauce that comes with this crispy chicken is so moreish! The umami familiar comforting taste of miso is given a fresh sweetness by our beautiful Twisted Citrus orange's.
(If your family aren't keen on eggplant swap it for broccoli or carrot.)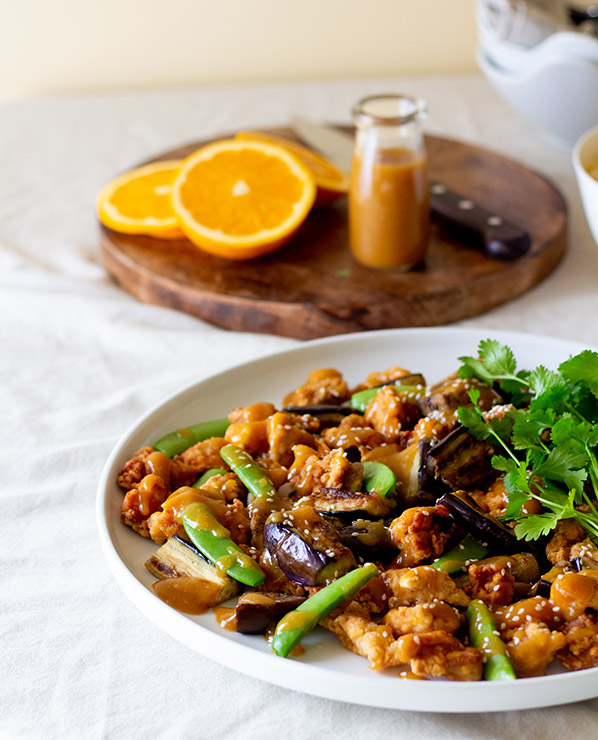 Crispy Chicken w/ Orange & Miso Sauce, & Eggplant
Ingredients
For the Chicken
6 chicken thighs, Skinless boneless, cut into small bite sized pieces
3 eggs, whisked
1/3 cup cornflour
1/3 cup flour
Oil for frying
Pinch of Salt
For the Sauce
1 cup Orange Juice from Twisted Citrus Oranges
2-3 tablespoons brown sugar
2 tablespoons miso paste
½ teaspoon white vinegar
1 inch piece of root ginger, finely grated
½ teaspoon soy sauce
1 Tablespoon cornflour
1 Eggplant, cut into finger size pieces,
Handful of sugar snap peas, topped and tailed
Garnish with Coriander and Sesame seeds
Instructions
In a large flat bowl combine the flours and season well with salt.
In another bowl whisk the eggs.
Get two plates ready to put the floured chicken on once coated.
Then dip the chicken first in the egg then in the flour mix and place on plates until ready to fry. It is messy but worth it!
Now cook your eggplant by heating a little oil in a pan and frying until nicely golden on each side. Salt while cooking. Reserve until ready to plate.
Get a pot a place all your sauce ingredients in except for the cornflour.
Blanch your sugar snap peas by pouring boiling water over the and leaving them for 3 minutes then draining.
Place a large heavy based pan on a med-high heat. Add a good inch of oil to fry the chicken.
Once hot enough add your chicken in batches. I did three batches. While cooking, turn over a few times. I take a test piece from each batch to check it is cooked. The chicken needs to be golden and cooked through. Once cooked drain on a paper towel. Sprinkle with salt.
While cooking the chicken, make your sauce. Put your sauce pot on a medium heat and simmer for a few minutes. Taste and add more sugar or soy if needed.
Make a slurry with your cornflour and 2 tablespoons of water. Add this to the pot and whisk. Cook for another couple of minutes until thick and glossy.
To assemble, mix your eggplant, sugar snaps & chicken together. Top with the sauce & sprinkle with sesame seeds and coriander.
Serve with rice