Delicious And Healthy Fruity Breakfast Ideas
---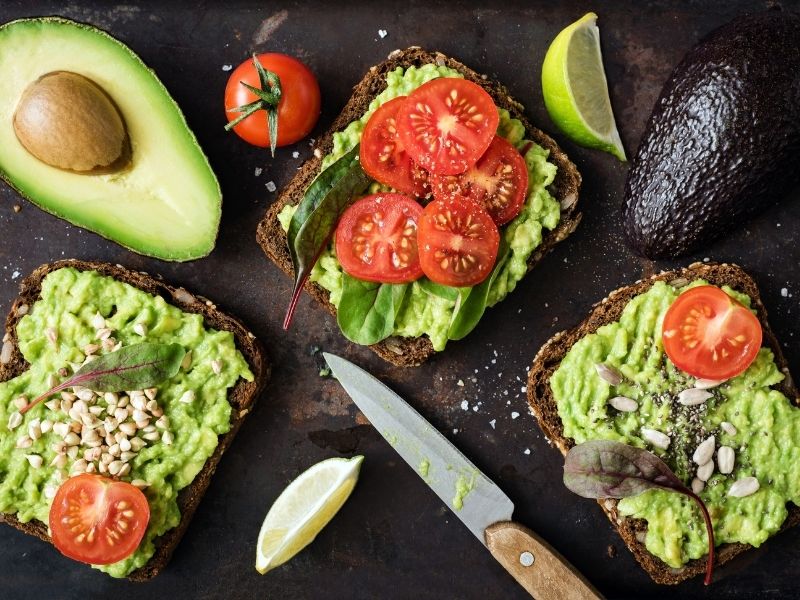 Stuck for breakfast ideas?
Sick of munching on a boring piece of toast or bowl of cereal and being hungry an hour later?
Boy are you in for a treat!
Brekky is our favourite meal of the day, and – wouldn't you know it – fruit just happens to be our item of choice. It's also super healthy and versatile, so including it in your breakfast line-up is a no brainer.
Ready to start the day fuelled-up and filled-up? Here's your inspiration.
Delicious And Healthy Fruity Breakfast Ideas
Why You Should Eat Fruit For Breakfast
While you were sleeping, your body was doing all sorts of important things – resting your digestive system and recharging your body included.
When you wake up, your body is primed and ready for action. Do you want to break your fast by filling your stomach with greasy, fatty, sugary foods or fuel it with healthy fibre and essential nutrients?
Many traditional breakfast foods contain loads of sugar and fat and not much else. They push your blood sugar and insulin levels through the roof – to later come crashing down.
To avoid the post-breakfast crash and ensure you stay full until lunchtime, you need to choose your breakfast wisely. Health professionals recommend a balance of unprocessed grains, protein, healthy fats, and fresh fruits and vegetables.
And just in case you need more reasons, fruit is quick and simple to prepare, easy to transport, and downright delicious!
Our Top Fruity Breakfast Ideas
Fruity Oats
Oats are a fantastic breakfast option, but even better when combined with fruit. Winter is great for your standard porridge. Top it with chopped bananas, berries, or anything else that takes your fancy.
Overnight oats are super popular and good for summer. Soak your oats in water or your choice of milk overnight and add grated apple and pear, yoghurt, honey, cinnamon, or anything else that takes your fancy.
Or, go a bit fancy and have your oats on top of a healthy fruity crumble, like our Tamarillo Breakfast Crumble.
Fruity Breakfast Burritos
Who said you can't eat burritos for brekky? Simply swap out the beans and jalapenos and grab your favourite wrap, stuff it with avocado, tomatoes, some leafy greens, and egg for a satisfying munch!
Or, if you can't let go of your toast, why not top it with tasty feijoa jam?
Be Smooth
Many people don't have much of an appetite in the morning, but you could always drink something delicious?
Fruit smoothies are endlessly versatile and super healthy. They are also great for hiding the taste of vegetables (meaning they are great for getting goodness into kids!). Include yoghurt, fruit, leafy greens, and a bit of protein powder or nut butter, and you have got a complete meal on the go.
Check out some of our favourite fruit smoothies here.
Fruit-Filled Pancakes
Healthy breakfasts can also be a little naughty. Balance the luxury of a pancake, crepe, or waffle by adding a generous helping of low sugar berries or a fibre-filled kiwifruit. You could even top your pancakes with cream cheese and fruit salad. Yum!
Avocado On Toast
Yep, avo is a fruit, so it makes the list! Get your fix in early with some smashed avo on toast topped with tomato. You can even add a little smoked salmon or cream cheese for some protein-rich fanciness.
Berry Omelettes
Omelettes don't have to be plain and boring (or packed with bacon). Instead, you can use one egg, milk, and a sprinkle of cinnamon to make a thin, crepe-like omelette. Then, wrap it around some cottage cheese and berries. Or, whip up a batch of our Lime and Blueberry Crepes.
Fruity Breakfast Muffins
If you have got some free time on the weekend, how about baking up a batch of healthy breakfast muffins to grab with your coffee during the weekday mornings? We are particularly fond of these feijoa muffins, date & orange scones or green apple & lime slice.
Smoothie Bowls
If you don't need to sip on your smoothie, you can pretend you are in a café in Bali or Hawaii by creating a delightful smoothie bowl (half-coconut bowl optional!) The sky's the limit here. Include chia seeds for fibre, nut butter, nuts, or seeds for protein, and a generous helping of your favourite tropical fruits.
So, there you have it. Our favourite fruity breakfast ideas! Though to be honest, fruit is so versatile that we could eat it for every meal! Head on over and shop our in-season selection now!