Lamb Meatballs with Garlic Yoghurt & Pita
Garlic
---
Jana from The MacPherson Diaries has paired her family-favourite lamb meatballs with a delicious garlic yoghurt for a simple, quick & healthy meal that you are sure to love!
Whether you have it for lunch or dinner, you'll find it's a lovely light and fresh option to add to your meal rotation.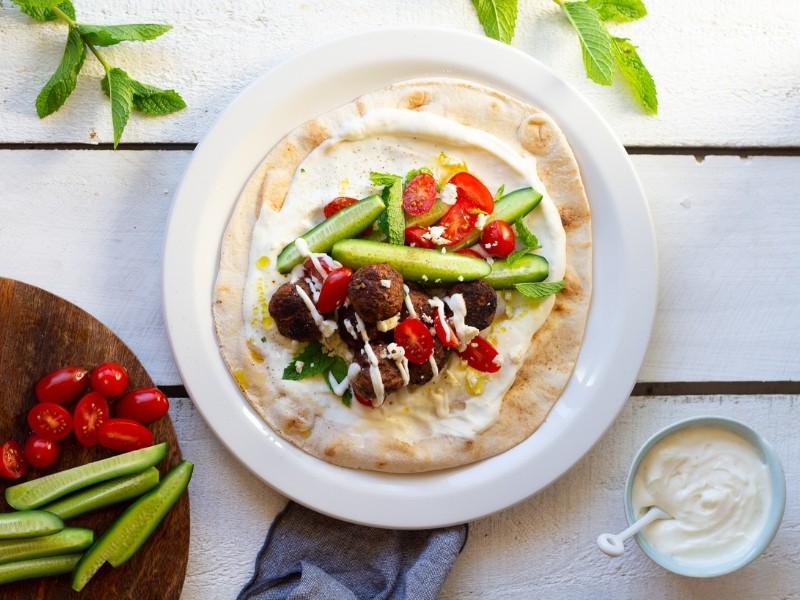 Lamb Meatballs with Garlic Yoghurt & Pita
INGREDIENTS
500g lamb mince
2-3 cloves twisted citrus garlic, minced, or finely chopped
2 tablespoons tomato paste
1 tablespoon Italian herb mix
½ red onion, grated
pinch of salt and pepper
1 teaspoon oil
SAUCE
2 cloves fresh garlic, minced, or finely chopped
½ lemon
1 cup yoghurt
salt and pepper
TO PLATE
mint, leaves picked
½ punnet cherry tomatoes, halved
1 pack mini-cucumbers, sliced
6 pita bread
salt and pepper
olive oil
50 grams feta cheese
DIRECTIONS
To make the meatballs, mix everything except the oil together in a large bowl, you can use your hands or a wooden spoon.
Once well combined you are ready to roll. Have a small bowl of water on hand to keep hands wet when rolling. Make the meatballs into approx 1½ tablespoon size.
Once rolled, place on a plate and into the fridge until ready to cook.
Now for the sauce, add all the ingredients together and mix. Taste and adjust seasoning if needed.
When ready to cook your meatballs, place oil in a pan and fry on each side until golden and cooked through.
To assemble, warm the pita bread, spread generously with garlic yoghurt, top with meatballs, tomatoes, cucumber, and mint leaves. Then drizzle with olive oil, sprinkle with crumbled feta, season with salt and pepper and serve.