Pan Fried Lemon Sole with Feijoa Salsa
Feijoas
---
Feijoas conjure up memories of childhood freedom and school holiday fun.
This recipe isn't what I think you expect when I say feijoas. It isn't crumble, or a loaf, or even muffins. No, I've gone the savoury route. I've made Pan Fried Lemon Sole with Feijoa Salsa and it is delicious.
The sweet and tangy taste of the feijoas balance out the herbs and red onion and it is the perfect complement to the Sole.
You want to use feijoas that are just ripe, as if they are too soft they will go mushy in the salsa. I have used Lemon Sole but you can use any white-fleshed fish that is good for frying. You also could serve this dish with warm bread and butter, or creamy mashed potatoes on the side for larger eaters.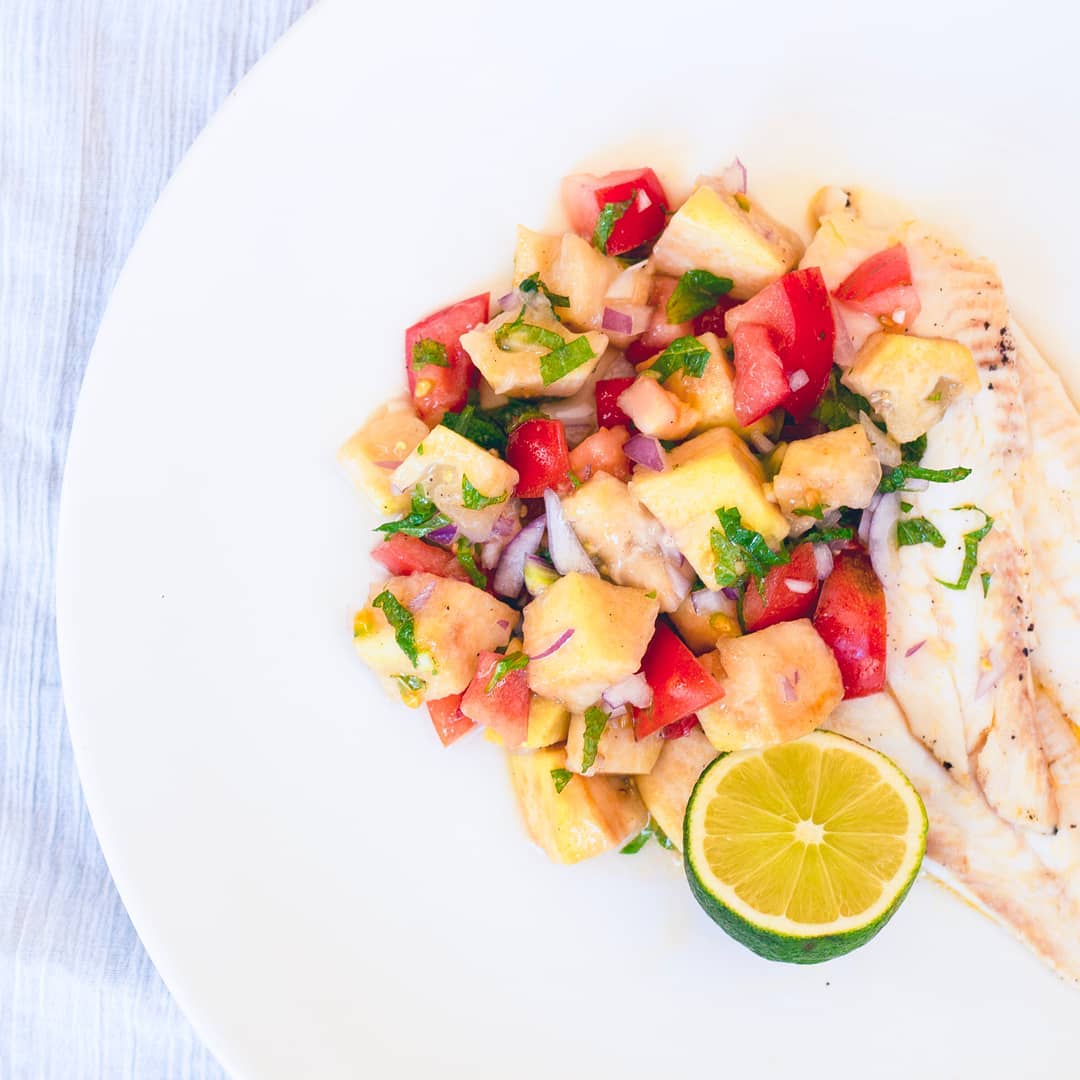 Pan Fried Lemon Sole with Feijoa Salsa
INGREDIENTS
2 fillets of lemon sole fish, trimmed and cut down the middle ready to fry
3-4 feijoa (size dependant)
½ red onion
½ a lime
2 tomatoes
1/3 cup herbs – mint &/or coriander
salt & pepper
olive oil
vegetable oil & butter for frying

DIRECTIONS
Slice your onion and soak in cold water for ten minutes. This is to get the acidity out of the onions.
Roughly chop all your salsa ingredients except for the lime
Drain your red onion and then finely dice the pieces.
Squeeze the lime over the salsa and season with salt & pepper and a drizzle of olive oil
Season the fish on both sides and cook in a medium pan with a splash of oil and a small knob of butter. The fish only needs about 2 mins each side to cook.
Serve the fish over the salsa and enjoy!