Makrut lime and lemongrass chicken skewers
Limes
---
Friends of mine simply call Makrut lime leaves "deliciousness" – fresh leaves give an unparalleled lift to curries and their secret ingredient status is well-deserved. Simply add a couple of torn leaves to the pan at the same time as your Thai curry paste and you will taste the difference.
This recipe makes a star of the leaves and is perfect for barbecue season.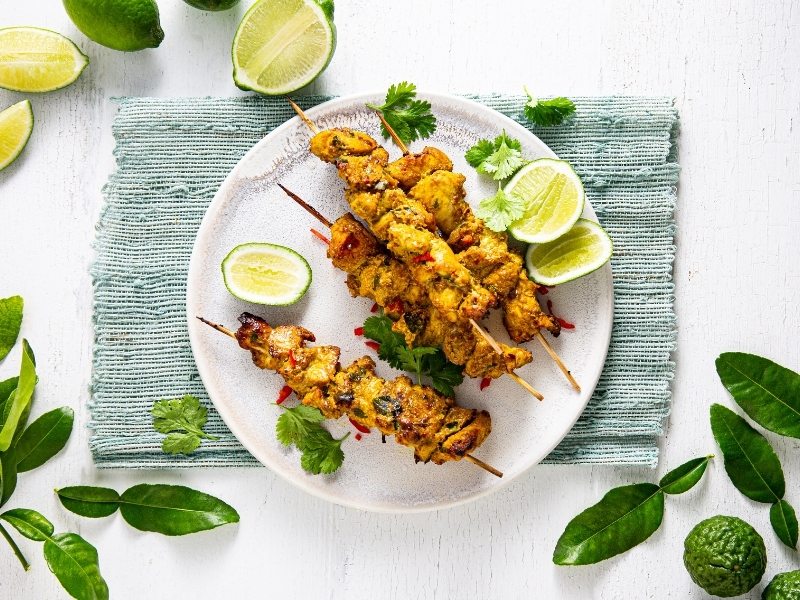 Makrut lime and lemongrass chicken skewers
INGREDIENTS
600g chicken tenderloins, breast or thighs, bone and skin removed
4 Makrut lime leaves
2 stalks lemongrass
2 cloves garlic, peeled
1 shallot, peeled
1 teaspoon Chinese five spice
2 teaspoons turmeric (fresh or dried)
1 teaspoon dried chilli flakes
1 tablespoon fish sauce
1 tablespoon sesame oil
1 teaspoon salt
10-12 bamboo skewers, soaked
To serve, 2-3 limes cut into wedges
DIRECTIONS
Cut the chicken meat into 2 cm cubes. Cut the makrut lime leaves into thin strips. Crush the white end of the lemongrass and roughly chop. Crush the garlic and shallot finely.
Combine lime leaves, lemongrass, garlic, shallot, Chinese five-spice, turmeric, chilli flakes, fish sauce, sesame oil and salt in a bowl and mix well.
Add the chicken to the marinade and toss well until well coated. Cover and refrigerate for several hours or overnight. Thread cubes of chicken onto pre-soaked wooden skewers.
Heat a grill plate or heavy-based frying pan on medium high. Cook the chicken skewers for 2 minutes on each side and turn to cook on all four sides, until golden and cooked through.
Serve with plenty of lime cheeks and extra coriander. Accompany with rice and salad.