Mexican pulled pork (conchinita pibil)
Oranges
---
Nothing quite beats the fresh flavours of Mexico washed down with an ice-cold Corona (don't forget the lime wedge in the neck of the bottle!).
This easy, flavoursome pulled pork dish takes some time, but most of it is hands-off, and with just five ingredients, preparing it couldn't be simpler.
Originating from the Yucatan peninsula, the dish is traditionally made with a paste made from a red seed called "annatto".
You can buy small blocks of the paste (called "achiote") from speciality stores such as www.marthasbackyard.co.nz or mexifoods.co.nz.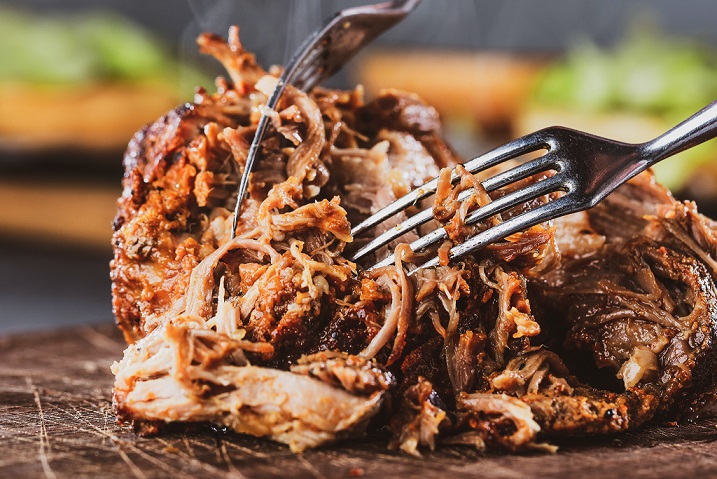 Mexican pulled pork
INGREDIENTS
1.5-3kg pork shoulder, bone removed, cut into 5X5cm chunks
1 packet of achiote paste (100g)
1 Tbspn salt
1c freshly squeezed orange juice
1/2c freshly squeezed lime juice
DIRECTIONS
Place the pork in a glass or stainless steel dish. Blitz the achiote paste, salt and juices in a blender and pour over the pork. Then cover and refrigerate for 24 hours.
Heat your oven to 160C. Line a heavy-bottomed casserole dish (it will need to have a lid) with three layers of tin foil slightly overhanging the sides.
Then pour in the pork and marinade, and seal with the lid. Place in the oven for three hours. After three hours, check the pork – if it pulls apart easily with a fork, it is ready, if not, top up with extra water if necessary and return to the oven until tender.
Remove the pork from the liquid, pull it apart with two forks so that the meat is shredded ("pulled"), and cover with enough of the marinating sauce to completely saturate the meat.
Serve with soft tortillas and/or rice, crumbled feta, fresh coriander leaves and lime wedges.