Passionfruit sour cream slab cake
Passionfruit
---
This moist cake is perfect for large groups and gatherings. It will keep well if covered and kept in the fridge. If fresh passionfruit isn't available, frozen passionfruit or passionfruit syrup can be used as an alternative.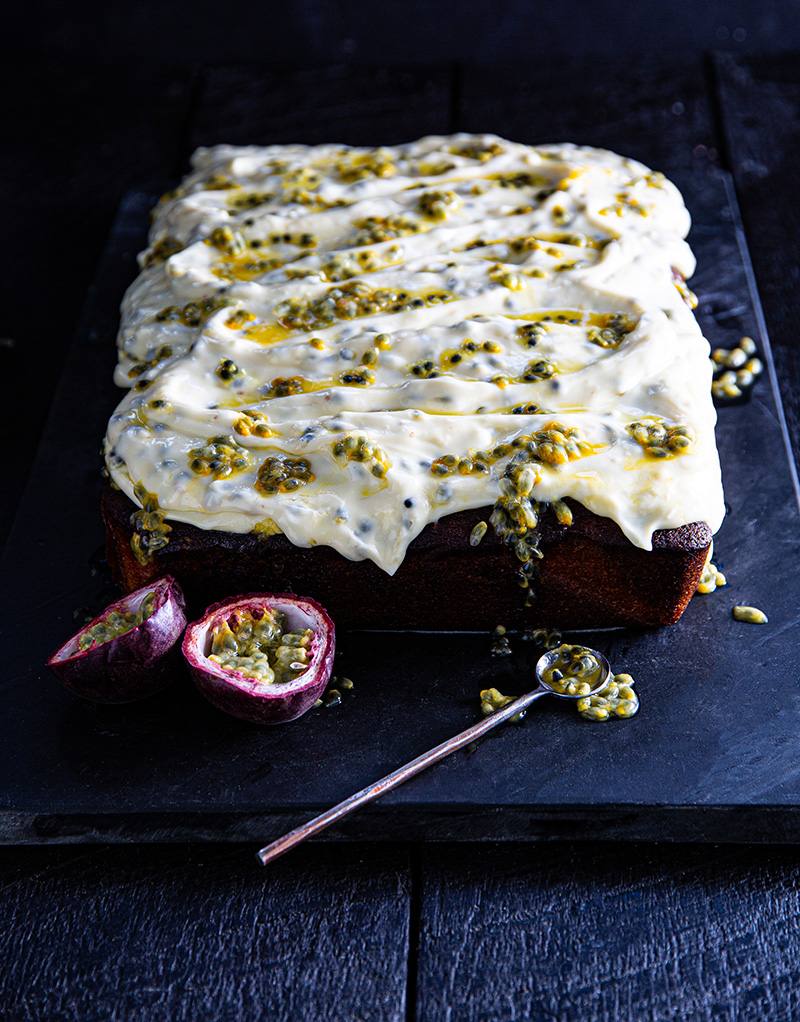 Passionfruit sour cream slab cake
Ingredients
450g butter, softened
750g caster sugar
2 lemons, juice and finely grated rind of
12 passionfruit, pulp of
10 free-range eggs
600g plain flour, sifted
4 teaspoons baking powder
450g sour cream
2 lemons, juice of
1/2 cup caster sugar

Passionfruit cream cheese icing:
500g cream cheese
50g butter, melted
2 cups icing sugar, sifted
4-6 passionfruit, pulp
Directions
1. Preheat the oven to 160°C. Grease and line a 20 x 30 cm cake tin with baking paper.

2. Beat the butter and sugar until light and creamy in a large bowl of an electric mixer. Add the eggs one at a time, beating well after each addition until mixture and is light and creamy.

3. Scoop out the pulp from the passionfruit. Place in a small sieve, and allow the juice to pass through. Run a spoon over the remaining pulp to squeeze out all the liquid. Discard the seeds.

4. Sift together the flour and baking powder. Mix in the flour and sour cream, one spoonful of each at a time, to reduce the risk of curdling. Add the lemon rind and half of the passionfruit juice and then mix gently to incorporate everything together until smooth. Pour into the prepared tin.

5. Bake in oven for 1 hour and 15 minutes or until cake springs back when tested or a skewer inserted comes out clean. Leave the cake in the tin for a few minutes to cool. Use a skewer to pierce some holes in the top of the cake.

6. Make the passionfruit syrup, heat the lemon juice, remaining passionfruit juice and ½ cup sugar together until sugar has dissolved. Pour over the hot cake to glaze. Leave for a few minutes more then remove from the pan.

7. To make the icing, blend together the cream cheese, melted butter, icing sugar in a food processor until smooth and lump free. Remove from the food processor bowl and mix through the last of the passionfruit pulp. Spread over the top of the slab cake. Use any extra passionfruit pulp and spoon over the top for decoration.

8. Keep chilled before serving.