Coconut & Lime Poached Chicken Salad
Limes
---
Check out this delicious chicken dish from Jana MacPherson , that is fresh & light but does not compromise on flavour.
Punchy herbs and a creamy dressing all spiked with our beautiful NZ limes.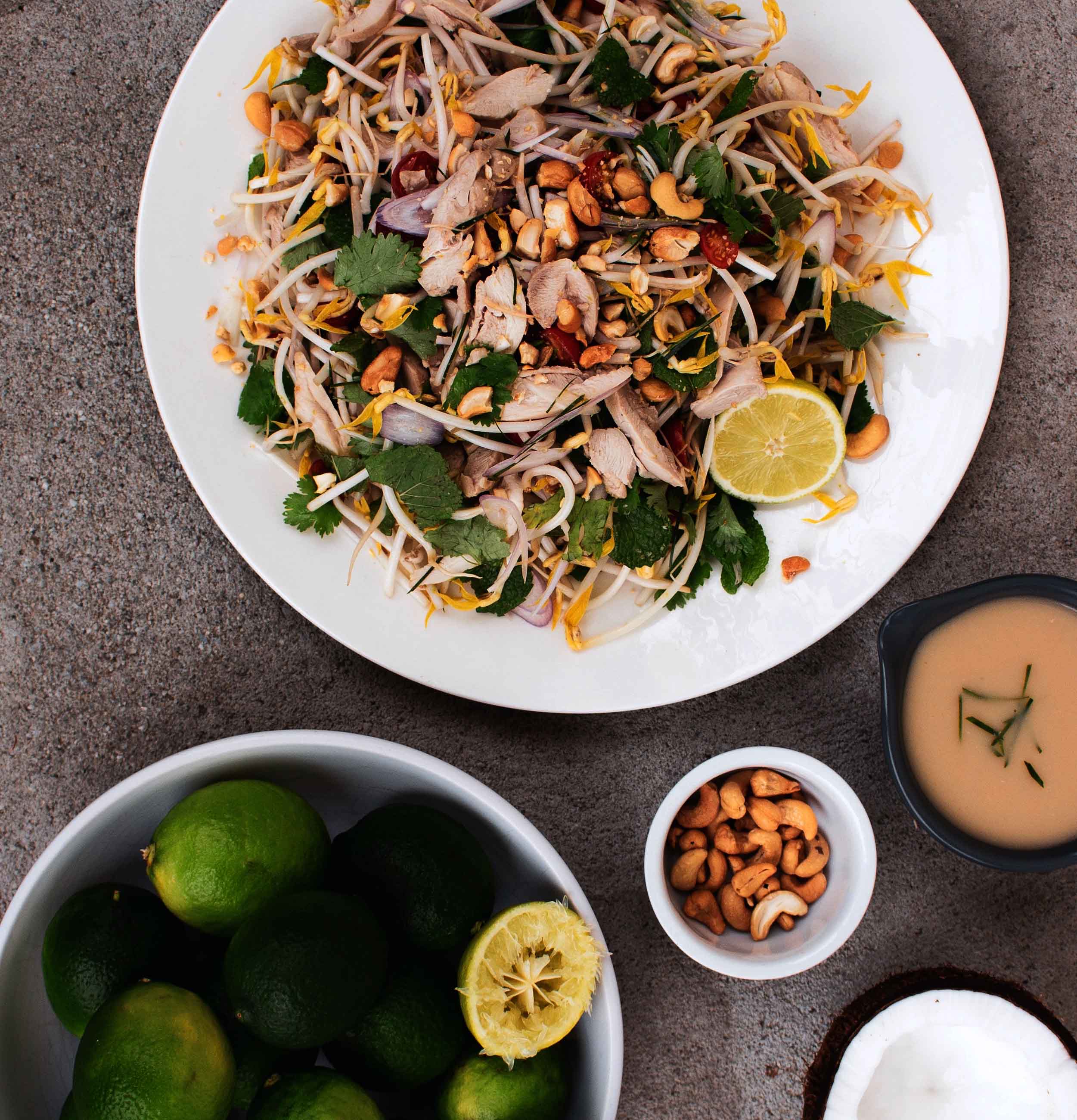 Coconut & Lime Poached Chicken Salad
POACHED CHICKEN INGREDIENTS
4 x chicken thigh boned and skin removed (you can use breast)
1 can coconut milk
2 makrut lime leaves
juice of 1 lime
2 teaspoons brown or palm sugar
small thumb-sized piece of ginger - grated on a microplane
fish sauce or salt to taste
SALAD INGREDIENTS
250 grams mung beans
large handful of cherry tomato
2 makrut lime leaves, vein removed and very thinly sliced
generous amount of coriander, I used a large pack from the supermarket
3 sprigs mint
zest & juice of 1 lime
1 x shallot finely sliced
roasted & salted cashews to garnish
DIRECTIONS
Add all poaching ingredients to the pan. Add the makrut lime leaves in whole, but give a gentle crush in your hands before putting in.
Bring up to a boil, taste for seasoning, and add chicken, reduce to a simmer, put the lid on and cook until chicken is cooked, around 4 mins each side.
Put chicken & poaching liquid in the fridge to cool. Sieve the liquid if needed.
Prepare salad ingredients by picking leaves off herbs and halving cherry tomatoes, add everything to a large bowl and toss.
Get chicken from the fridge and slice. Add cooled chicken to your salad ingredients. Toss and transfer to your serving plate.
Sprinkle with cashew nuts & serve with poaching liquid and an extra lime wedge on the side
Now devour!