The Top Ways To Keep Your Winter Fruit Intake Up
---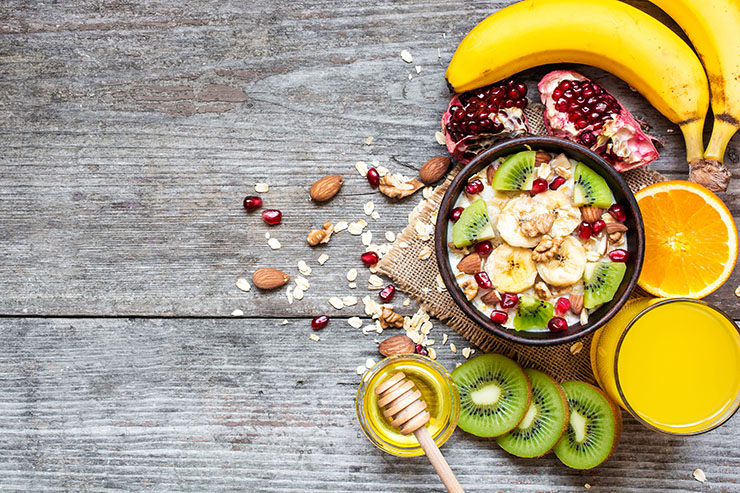 Eating healthy during summer feels like a breeze. There are any number of options to choose from. Refreshing smoothies, long, cold fruit juices, and a big bowl of fruit salad go down very easily.
But keeping that five plus a day up in winter is a bit more challenging.
A hot cup of coffee or milo feels a lot more appealing than a cold glass of juice, and a carb-filled stew can be more tempting than a bowl of fruit. Plus, there seems to be less of those delectable fruits on the supermarket shelves.
But it is equally important to make the most of the delicious fruit on offer during the chillier months. Mother Nature, in all her wisdom, has provided us with the nutrients we most need to keep our immune systems healthy during cold and flu season. And the great thing is there are plenty of options for munching on fruit when it's cold out.
So, put down the mashed potato and check out some of our favourite winter fruits to eat, along with some great ways to prepare it.
Winter Fruits In Season
Think all the best fruit is only around in summer? Not so! There's still lots of goodness to be had. During the cold months, you can find these winter fruits:
Apples
Avocados
Grapefruit
Kiwifruit
Mandarins
Pears
Oranges
Papaya
Pomegranates
Rhubarbs
Tamarillos
Level Up Your Porridge
There's nothing quite as satisfying as a steaming, hearty bowl of porridge for breakfast (or lunch, dinner or dessert!) when it's cold out. Adding fruit to your oatmeal is a great idea. Not only does it keep things interesting, but it also provides a much-needed nutrient boost.
Dice some pear, apple, persimmon, (or whatever floats your boat) and throw it in with the porridge as it cooks. Bananas and cranberries go well with oatmeal, along with a sprinkle of cinnamon, nutmeg, or honey.
Stew On It
Stewing fruit is a great way to use excess, and you can easily freeze it for use later. And there are plenty of winter fruit varieties that stew really well! Stewed rhubarb, apple, pear, or feijoa can be turned into delicious desserts, added to the morning weetbix, or simply eaten with some yoghurt for a sweet yet nutritious treat. Plus, you can make some great homemade baby food if you are at that stage of life.
Go Savoury
Think outside the box and remember that tomatoes, avocados, and capsicums fall into the fruit category. They all have high vitamin C content, so will help keep you strong and healthy when everyone is coughing and sneezing around you.
Try roasted capsicums stuffed with rice, or sliced capsicum in sweet & sour. Or, a chunky guacamole slathered on warm bread will fill a hungry and cold belly. These sound like excellent comfort foods to us!
Be Prepared
If you can't live without your favourite summer fruits, get in early, buy extra, and freeze them to use out of season. Frozen fruit retains nearly all its nutrient content, so will still have all the goodness you need. In particular, berries freeze well and make for an awesome flavour pop in whatever you whip up. Add them to smoothies, dessert, sauces, or simply thaw for a snack.
While you have options of freezing or imported varieties, eating seasonally is a great habit to get into. That way, you are avoiding unnatural ripening or storage practices by only purchasing what grows locally. Doing this means you can support local growers, and save money by buying whatever is in abundance at any time of year. It is also a great chance to get creative, using fruit in ways you hadn't considered before to make delicious dishes.
Here at Twisted Citrus, we stock only the best in season fruit. That means we have all your favourite winter fruit available AND we can deliver them right to your door. Shop the range now.