Creamy Garlic Chicken
Garlic
---
There is something comforting and luscious about a creamy garlic sauce. The pleasing aroma hits you before you even take a bite, and you know you are in for a very good time.
We've used a whole head of purple garlic in this creamy garlic chicken and the garlic goes soft and sweet and oozy and you will love it!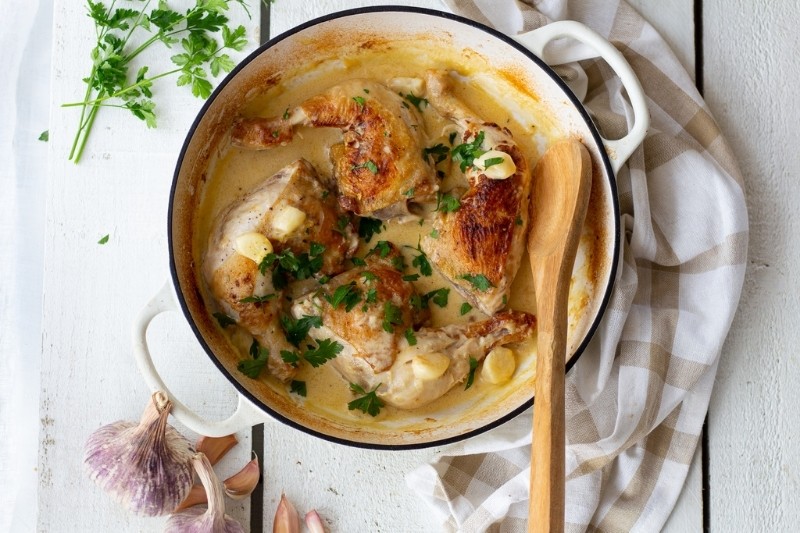 Creamy Garlic Chicken
INGREDIENTS
4 chicken legs (Maryland)
½ cup white flour
1 tablespoon oil
2 tablespoon butter
1 cup chicken stock
1 whole head of garlic, cloves peeled
juice of half a lemon
salt and pepper
½ cup cooking cream (or ¾ cup normal runny cream)
DIRECTIONS
Preheat oven to 180 degrees fan bake.
On a plate, place flour and season well with salt and pepper, then mix to combine. Now take your chicken legs and dredge them in the flour to coat.
Place a casserole dish on a medium heat and place 1 tablespoon of oil and 1 tablespoon of butter into the pan.
Once the pan is hot, add your chicken and sauté for 4-5 minutes on each side until golden. Take the chicken out of the pan and set aside.
Reduce the heat to low and add the last 1 tablespoon of butter to the pan. Once melted, add your garlic cloves. Stir often, cook for 3-4 minutes until light brown.
Add the chicken stock, and lemon juice and let the liquid bubble away for a few minutes.
Add the cream and the chicken back into the pan. Bring up to the boil and transfer to the oven to finish cooking the chicken for around 15-20 minutes. Taste the sauce and adjust seasoning if needed.
Finish with chopped parsley and serve with a green salad and mashed potato.