Lime and Coriander Chicken
Limes
---
I adore the piquant sticky and sweet vibes of this dish.
With a short ingredients list, it is simple and easy, yet your guests will be licking the plates and asking for the recipe!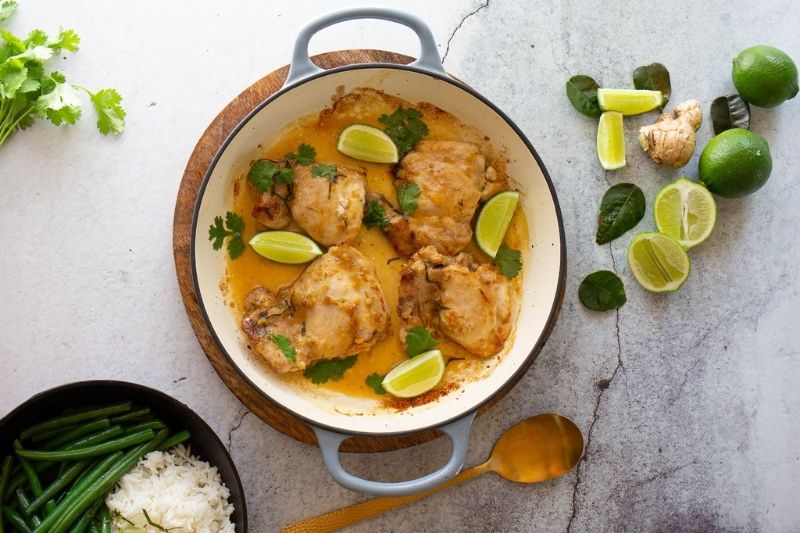 Lime and Coriander Chicken
INGREDIENTS
4 chicken thighs, boneless
oil for frying
1 tablespoon honey
3 limes
salt & pepper
1 tablespoon minced garlic
a handful of coriander, leaves removed
4 makrut lime leaves, finely sliced
thumb-sized piece of ginger, micro planed or minced
DIRECTIONS
Zest two of your limes and squeeze the juice. Place in a bowl or jug.
Add the garlic, salt & pepper, makrut lime leaves, and ginger.
If your honey is runny, add to the lime mix, if the honey feels like it won't mix in easily, heat in the microwave for 5-10 seconds to loosen up before adding to the lime mix.
Mix the marinade together.
Take the chicken and place it in a sealable bag or bowl. Pour over the marinade and marinate for 30 mins or overnight.
When you are ready to cook, heat oil in a pan over a medium-high heat.
When hot add the chicken and cook on both sides. EITHER until cooked through, OR brown on both sides and finish in the oven. I like doing this so that I can get everything else sorted while the chicken happily cooks in the oven but cooking on the stovetop is perfect as well.
Once cooked, scatter coriander leaves and slices of lime over the top.
Serve! I served mine with rice and fried green beans.