Tamarillo & Golden Syrup Mini Loaves
Twisted Recipes
---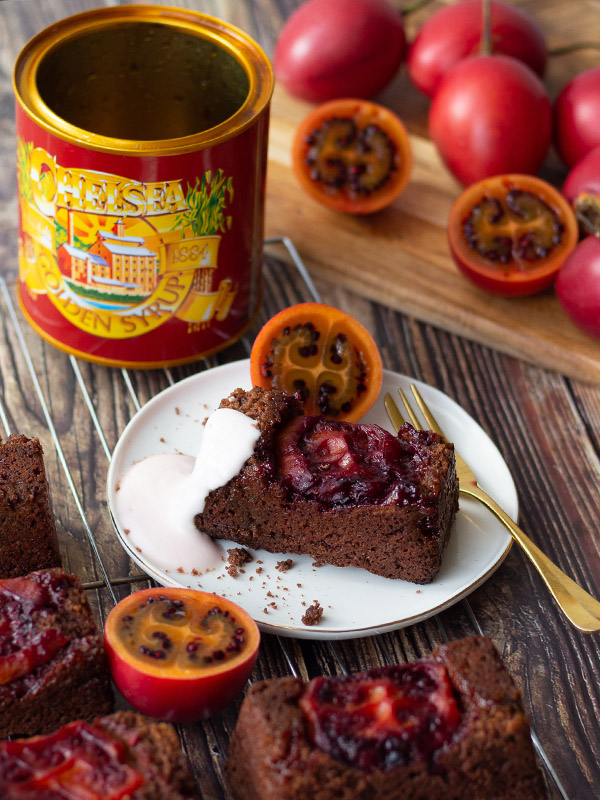 These lovely little loaves are rich and decadent, and married with the pop of tart tamarillo, they are such a delicious combination. Eat them warm, with yoghurt or whipped cream, or serve them at afternoon tea.
Tamarillo & Golden Syrup Mini Loaves
INGREDIENTS
2 Twisted Citrus tamarillos, peeled and sliced 1 cm thick
Topping:
50grams butter
2 tablespoons Golden Syrup
Loaf mix:
1 ¾ self raising flour
1 cup caster sugar
125 grams butter melted
2 eggs
¼ cup of milk
¼ cup cocoa
METHOD
1. Preheat oven to 180 degrees fan bake
2. Grease 8 mini loaf tins/moulds
3. In a pot, melt together your topping ingredients
4. Pour equal amount of the golden syrup mix into your greased loaf moulds
5. Place one slice of tamarillo in the middle of your loaf tin/mould. Set aside
6. Sift flour into a bowl, add sugar & cocoa make a well in the centre.
7. Add melted butter, eggs & milk. Whisk until combined and smooth
8. Place the loaf mix on top of the tamarillo slices in the loaf tins. I find using two spoons easiest for this. Leave a little space when filling, for them to rise while cooking.
Cook for 25-35 mins until a skewer comes out clean when tested.
Cool in the tins for 10 mins then turn out. Occasionally the tamarillos will stick a little. Use a butter knife to help them out if needed.
Serve warm with yoghurt or whipped cream, or once cooled they are lovely for afternoon tea.