Fish Tacos with Avocado
Twisted Recipes
---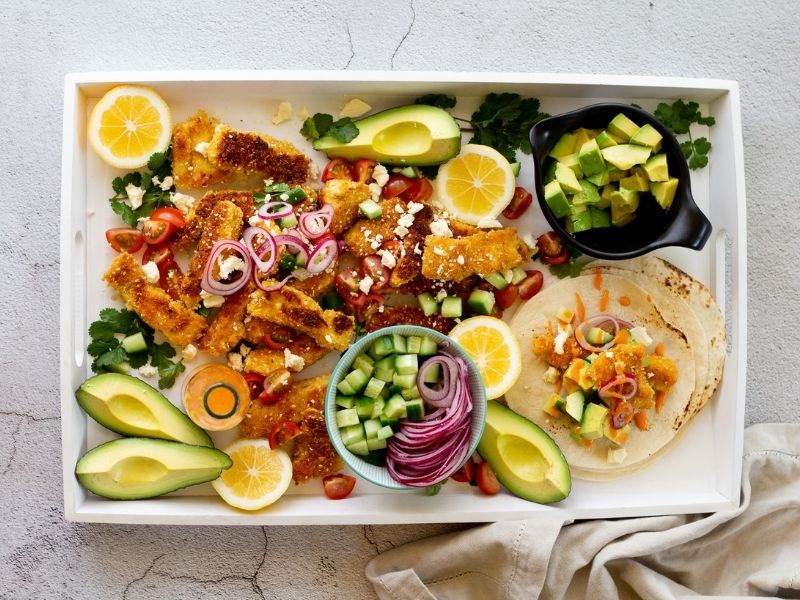 These fish tacos with creamy avocado and killer spicy sauce from Jana MacPherson taste like heaven! And the avo's are just so good right now. You know that feeling when you want to show someone just how good your avo is when you open it?!
Fish Tacos with Avocado
Ingredients
500 grams white fish
2 Eggs
1½ cup breadcrumbs, I used a mixture, and I love using panko
½ cup white Flour
Salt & Pepper
1/3 Cucumber
2 Twisted Citrus Avocado
Handful of Coriander
½ punnet of cherry Tomatoes, chopped
1 Red onion, sliced
1-2 tablespoons Oil
8 flour Tacos
50g Feta Cheese
1-2 tablespoons white vinegar
1-2 tablespoons white sugar
2 Twisted Citrus lemons
Siracha Mayo to serve
METHOD
1. First make the red onion pickle, in a jar, add the red onion, sugar & white vinegar. Mix a little and set aside.
2. Next let's crumb the fish. Place the flour on a plate and season with salt and pepper. In a bowl, crack the eggs and mix with a fork a little. On another plate, place the crumbs.
3. Slice the fish into finger sized slices.
4. Dip the fish in the flour, then egg, then crumb mix. And then set aside. I like to use one hand for dipping and keep one clean in case i need to add something else or answer the door/phone!
5. Slice the tomatoes and dice the cucumber.
6. Cook the fish in a pan on a medium heat, in a little oil until cooked through.
7. While the fish is cooking, heat your tacos and take one of your avocados, peel and dice. Add a generous squeeze of lemon and season well with salt and pepper.
8. On a large platter, place your tacos, fish, chopped avocado & if you like some extra avocado slices like I have here as well. Add your cucumber to the red onion and place on the platter, scatter over some tomato, coriander and finish with siracha mayo. I like to do a final season of the fish with salt & pepper and serve with lots of lemon wedges and scatter over crumbled feta.
Serve.