Passionfruit custard square
Passionfruit
---
This delicious passionfruit custard square recipe with delight your tastebuds!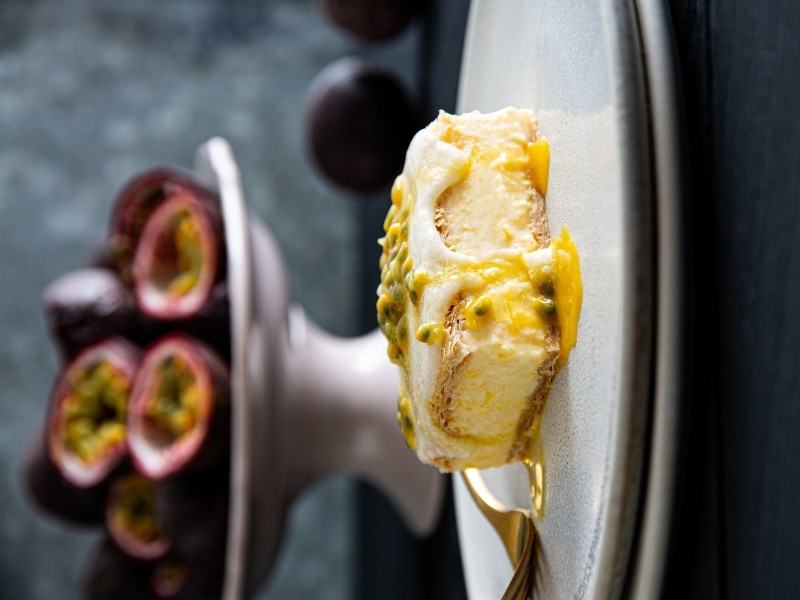 Passionfruit custard square
INGREDIENTS
2 sheets puff pastry, thawed
300 ml cream
300 ml milk
60g butter
2 teaspoons passionfruit juice
150g caster sugar
40g cornflour
110ml water
6 free-range egg yolks
PASSIONFRUIT ICING
100g butter, melted
375g icing sugar
5-6 passionfruit, juice and seeds
DIRECTIONS
Preheat oven to 180°C. Grease a 22cm square cake tin with butter.
Place pastry sheets on baking trays lined with non-stick baking paper.
Top each pastry sheet with another sheet of non-stick baking paper. Place an additional baking tray on each pastry sheet as a weight.
Bake for 20-25 minutes or until golden. Remove pastry from between the trays, and allow to cool on wire racks.
Heat the cream, milk, butter, passionfruit juice and sugar in a large saucepan over medium heat. Cook until the mixture just comes to the boil. Remove from the heat.
Combine cornflour and water. Whisk vigorously into the hot milk mixture with the egg yolks. Cook until thick, continually whisking.
Trim the pastry sheets to 22cm square using a serrated knife. Place one sheet in the base of a lightly greased cake tin, lined with non-stick baking paper. Pour over the custard mixture. Place the other sheet of pastry over the custard mixture, gently pressing down.
Refrigerate for 2-3 hours or until set. Beat butter and icing sugar together. Add the passionfruit pulp one spoonful at a time with an electric beater and whip until light and creamy. Pour over the top pastry slice and continue to refrigerate until ready to serve.