Mandarin Currant Pancakes
Mandarins
---
Adding mandarins to your pancakes is a great way to include natural Vitamin C in your breakfast and oh so yummy too!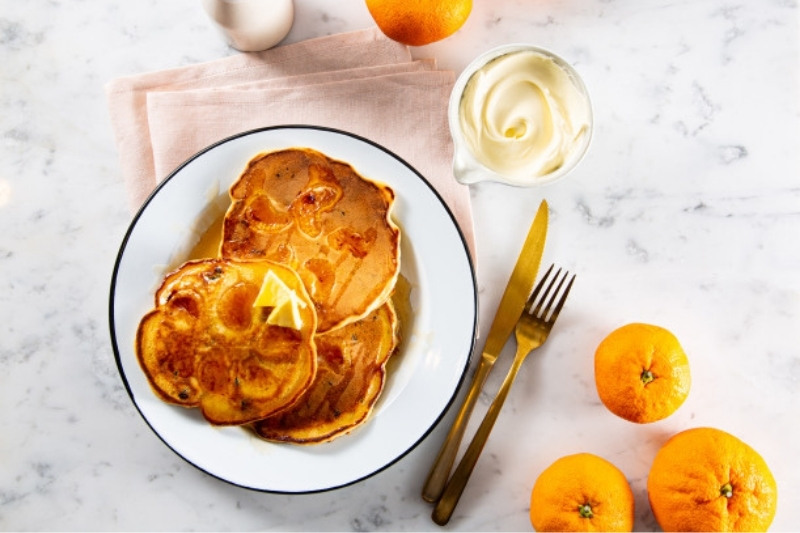 Mandarin currant pancakes
INGREDIENTS
3 cups plain flour
2 teaspoons baking soda
4 teaspoons cream of tartar
2 tablespoons sugar
Pinch ground nutmeg
2 teaspoons finely grated mandarin zest
½ cup currants
2 eggs, beaten
2 cups milk or buttermilk
50g butter
2-3 fresh mandarins, peeled
extra butter for cooking

DIRECTIONS
Sift flour, baking soda and cream of tartar into a mixing bowl. Stir in the sugar, nutmeg, mandarin zest and currants.
Combine egg and milk. Melt butter and stir into egg and milk mix.
Add this to dry ingredients and mix to a smooth batter consistency. Add extra milk or buttermilk if necessary. Leave mix to rest for 10 minutes.
Heat a heavy based frying pan on a medium to hot heat. Grease pan with a little butter, wiping away excess so that it doesn't burn.
Arrange 4-5 wedges of mandarin on the frying pan, and quickly pour about ¼ cup of the pancake mix over the mandarins. Cook for 1 minute until bubbles appear, turn and cook the other side for 1 ½ minutes until pancake is firm. Repeat with remaining mandarin segments and batter until all made. Wrap cooked pancakes in clean dry tea towels, and keep warm until serving.
Serve warm with butter, crème fraiche and maple syrup. Makes about 16.