Lemon Chocolate Tart
Lemons
---
This recipe from UK fairtrade chocolate pioneer Green & Black's pairs lemon and chocolate with a chocolate pastry crust and a layer of chocolate (achieved by simply sprinkling some grated chocolate over the hot pastry shell) encasing a tangy creamy lemon filling.
It's a decadent treat and goes beautifully with fresh summer berries and a dollop of cream.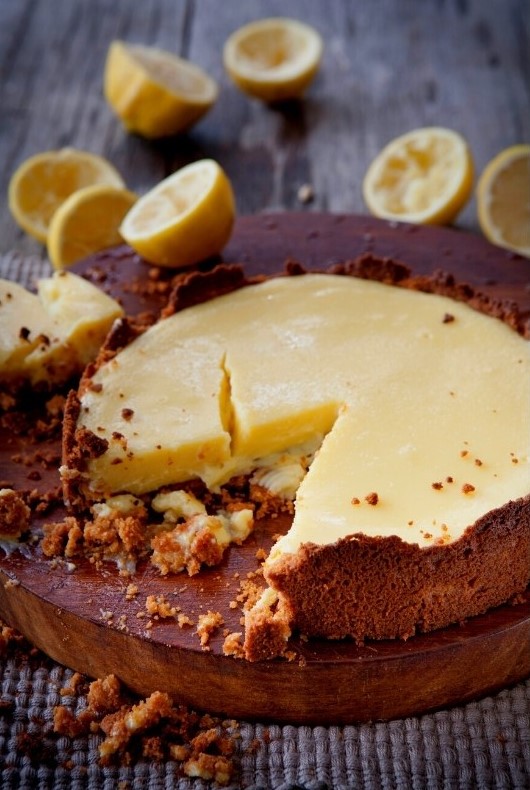 Lemon Chocolate Tart
INGREDIENTS
(Pastry)
175g flour
25g cocoa
25g icing sugar
125g butter, chilled and cubed
1 large egg yolk
2Tbsp cold water
(Filling)
75g dark chocolate (Lindt 70% is an excellent choice), grated
3 lemons, zested and juiced
150g caster sugar
4 large eggs
150ml cream
icing sugar to dust
DIRECTIONS
Pulse flour, cocoa and icing sugar in a food processor. Add butter and pulse until the mixture resembles fine breadcrumbs. Combine egg yolk and water and pulse into the mixture. As soon as the dough comes together (add a little more water if required), turn the food processor off and turn out onto a floured bench. Shape into a ball, wrap in cling film and chill for at least half an hour.
Roll out pastry to fit a 23cm tart tin. Place in the tin, trim the edges, prick all over with a fork, and chill for a couple of hours or overnight.
Line the pastry case with foil and baking beans or rice and bake blind for 15 minutes at 200C. Remove foil and beans and bake for another 5 minutes. Remove the tin from the oven and reduce the temperature to 170C. While the pastry is still hot, scatter with the grated chocolate – which will melt on contact – covering evenly, then set aside to cool.
Put the lemon zest and juice into a bowl and whisk in the sugar until dissolved, then add the eggs and cream and mix until smooth. Pour the filling into the cooled pastry case and (carefully) return to the oven and bake for 30-35 minutes until just set (look for the wobble). Leave to cool completely on a wire rack before removing from the tin and dusting with icing sugar. Serve with whipped cream and berries – raspberries work particularly well.
Serves 6-8