Avocado Crostini
Avocados
---
These avocado crostini make a great finger-food option for a summer drinks party – or you could serve the avocado mixture in a bowl with the crostini on the side so guests can help themselves.
Perfectly ripe avocados need little accoutrement but this recipe can easily be adapted by adding lime, chilli, coriander, basil, fresh tomato or sun-blushed tomato, pesto, feta, mint, chives, finely chopped raw, marinated or smoked salmon or tuna, a drizzle of balsamic reduction, some parmesan or pecorino shavings – experiment until you find your favourite(s)!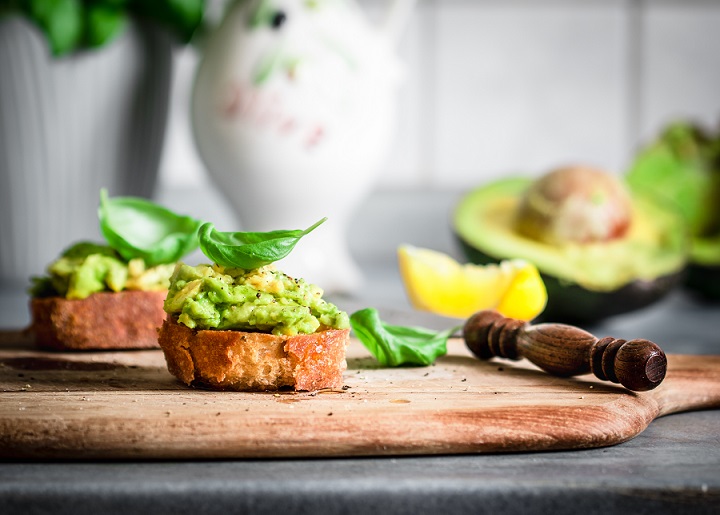 Avocado Crostini
INGREDIENTS
1 baguette
65ml olive oil
sea salt
2 garlic cloves
3 perfectly ripe avocados
½ lemon (juice)
sea salt and freshly ground black or white pepper
extra virgin olive oil
SUGGESTED ADDITIONAL COMBINATIONS
Combo 1
- 100-200g finely diced raw tuna or salmon (can be marinated in a little lime or lemon juice if desired)
- 2 tsp toasted black and white sesame seeds
- 1 tsp soy sauce
- 1 Tbsp finely chopped spring onion
- wasabi to taste
- top with a couple of 3cm lengths of chives, crossed
Combo 2
- 1 finely chopped red chilli
- 1 crushed clove garlic
- substitute lemon, with juice of 1-2 limes
- 2 Tbsp finely chopped red onion
- 2 Tbsp finely chopped coriander
- 2 tomatoes, finely chopped
- top with one or two coriander leaves
Combo 3
- 100g crumbled feta
- 2 Tbsp finely chopped mint
- 2 Tbsp finely chopped chives
Combo 4
- 3 Tbsp pesto
- top with parmesan or pecorino shavings and a sprig of basil
Combo 5
- 2 Tbsp pesto
- 4 Tbsp finely chopped sun-blushed tomatoes
- top with basil leaves and a few drops of balsamic reduction

DIRECTIONS
Cut the baguette into thin slices (about 1cm), brush both sides with olive oil and season with salt.
If you have a benchtop grill, toast the bread until crisp and nice brown stripes are seared into the surface. If not, place on a baking tray and bake at 180C for 15-20 minutes until golden and crisp. Rub the surface of the cooked crostini with the peeled garlic cloves while still warm.
Remove skin and stones from avocados and cut dice finely. Carefully fold in lemon juice, a splash of olive oil and salt and pepper. Spoon mixture onto cooled crostini and drizzle with a little extra virgin olive oil.
Serves 6-10