Lemon Biscuits
Lemons
---
This recipe is from Anne Sijmonsbergen's cookbook Eivissa.
The buttery shortbread is topped with candied lemon slices so they are as pretty as they are delicious.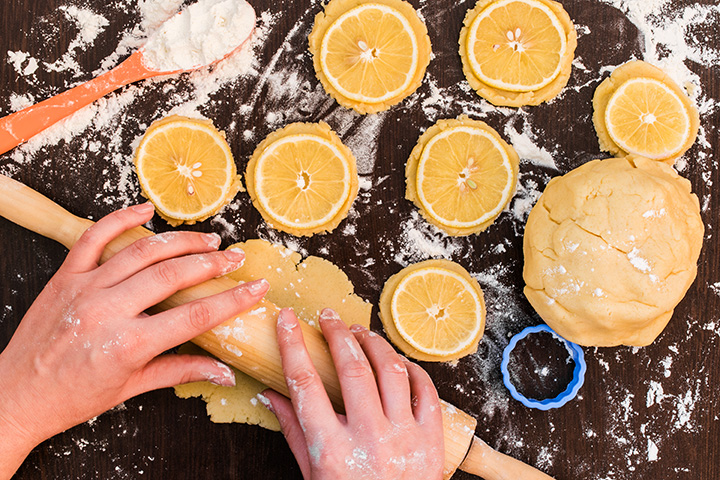 Lemon Biscuits
BISCUIT INGREDIENTS
180g plain flour
60g caster sugar
125g butter, chilled and diced
Zest of 1 lemon
1T lemon juice
CANDIED LEMON SLICES INGREDIENTS
150ml water
150g caster sugar
2 large lemons, sliced into 0.5cm thick rounds
DIRECTIONS
First make the candied lemon.
Cover a wire rack with greaseproof paper. Bring water to the boil in a large frying pan. Add the sugar and stir until completely dissolved.
Cover the bottom of the pan with a single layer of lemon slices, reduce the heat and simmer for 6-8 minutes or until the lemon becomes translucent.
Transfer the fruit carefully to the rack and repeat until all the lemon slices are done. Set aside to cool.
To make the biscuit dough, combine the flour and sugar in a bowl and rub butter in with your fingertips until the mixtures resembles fine breadcrumbs.

Add the lemon zest and juice, combining until the dough forms a ball, then wrap it in cling film and refrigerate for 30 minutes to an hour.
Preheat the oven to 180C.

Roll out the chilled dough on a floured surface to 0.5cm thick. Sprinkle with sugar and cut into about 18 rounds using an 8cm diameter cookie cutter.
Divide the rounds between two ungreased baking trays and cook for 15-20 minutes until just golden. Remove from the oven, transfer the biscuits to a wire rack and allow to cool.
To serve, top with a slice of candied lemon.
Makes 18.