Grapefruit and green olive salad with honey vinaigrette
Grapefruit
---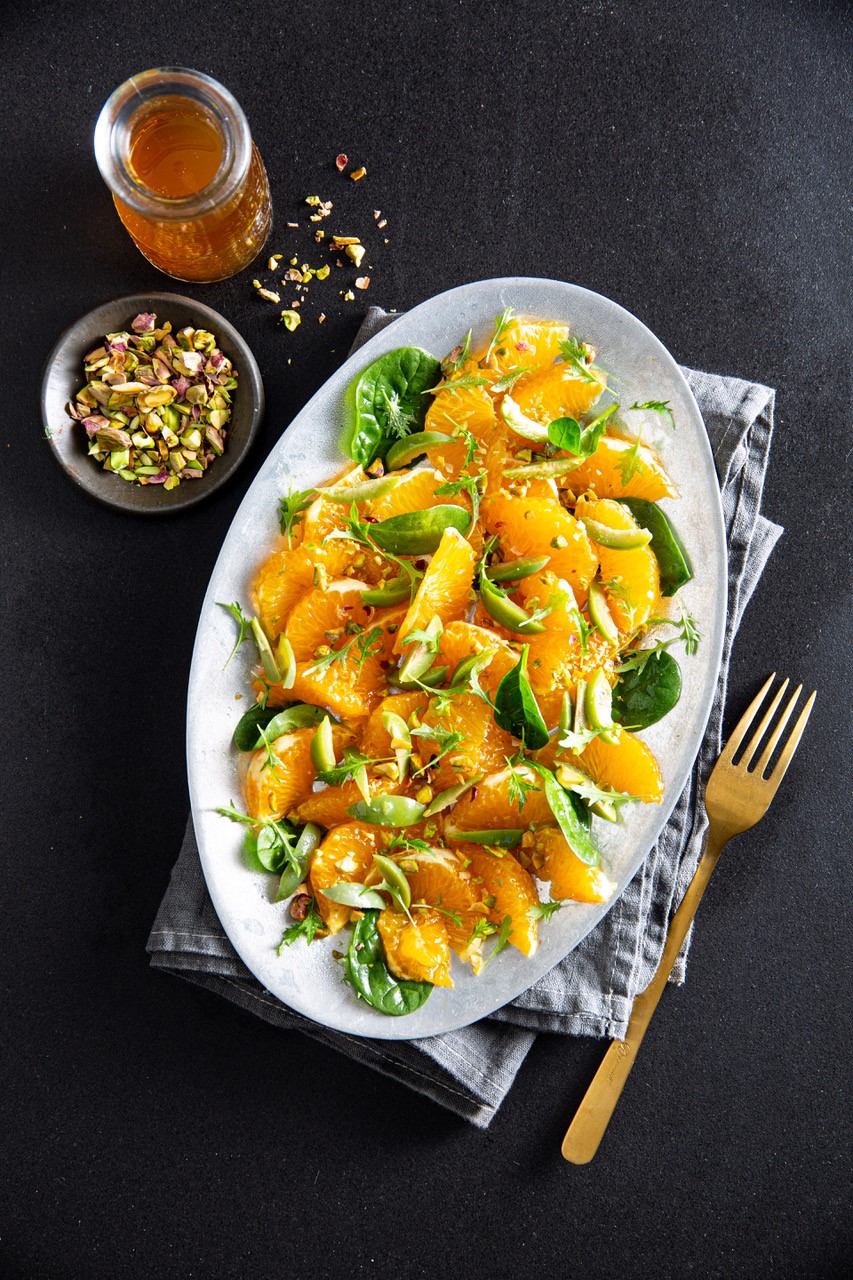 Morrison Seedless Grapefruit and green olive salad, with honey vinaigrette
Serves 4 (as a side salad)
Prep time: 10 minutes
INGREDIENTS
3 Morrison Seedless grapefruit
1 cup large green olives, pitted
1 cups baby spinach leaves
½ cups microgreens, like mizuna, radish or pea shoots
70g pistachios, roughly chopped
HONEY VINAIGRETTE
2 tablespoons Rockabee honey
¼ cup apple cider vinegar
½ cup grapefruit juice
1 teaspoon Dijon mustard
salt and freshly ground black pepper, to taste
¼ cup olive oil
DIRECTIONS
1. Prepare the Morrison Seedless Grapefruit, cut the ends off the whole grapefruit. Using a sharp knife, cut down between the peel and the flesh of the fruit, following the curve of the fruit to remove the skin. Trim away any stray pith on the exterior fruit. Holding the grapefruit, find the membrane that divides the segmented fruit.
2. Slice down between each side of the membrane, releasing the slither of flesh from the middle. Be careful not to squeeze the rest of the fruit too hard as you go, so that the other segments stay juicy. When all the segments have been removed, squeeze the remaining juice from the leftover core, and reserve for the vinaigrette.
3. Remove the stones from the olives and slice them into quarters. Wash the greens and pat dry with clean kitchen paper.
4. Mix together the Rockabee honey, vinegar, reserved grapefruit juice and mustard in a glass jar or small bowl. Season to taste with salt and freshly ground black pepper. Add the olive oil last, and whisk together or place the lid on the glass jar and shake vigorously until emulsified.
5. Arrange the grapefruit segments on a platter, or shallow bowl with the olives, greens, and microgreens.
6. Drizzle over half the dressing and sprinkle on pistachio nuts. Leave to infuse for a few minutes before serving.