Whole Orange Cake with White Chocolate
---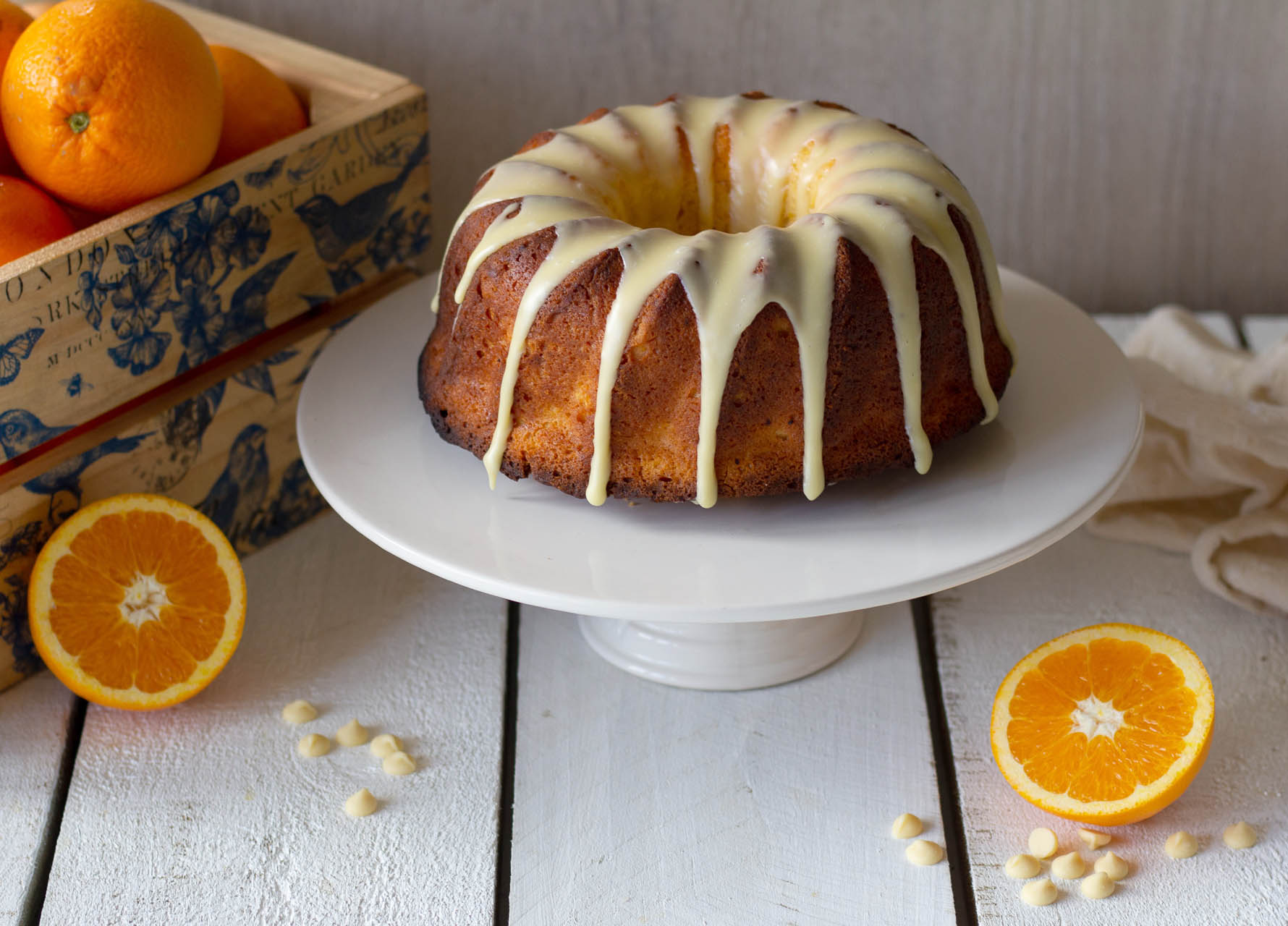 This is such a lovely moist cake with beautiful citrus flavour. Just perfect for delicious new season Gisborne oranges. I have used a Bundt tin but a regular ring tin would work just as well.
This is a simple recipe using mainly pantry staples and a little yoghurt. It is delicious served for afternoon tea with a cuppa.
Whole Orange Cake with White Chocolate
INGREDIENTS
CAKE
4 eggs
375g caster sugar
400g white flour
3 ½ tsp baking powder
150g butter, softened
1/2 c plain Greek yogurt
1 large orange
ICING
½ cup white chocolate chips
1 tablespoon milk
GARNISH
white chocolate drops
dehydrated blood orange
DIRECTIONS
1. Preheat the oven to 180 fan bake.
2. Place the whole orange in a small saucepan, cover with boiling water and simmer until soft, about 20 minutes. Set aside to cool.
3. While your orange is cooling, grease your Bundt tin (or cake tin) with butter.
4. When the orange is soft and cool, cut in half and remove any pips. Process the whole orange in the food processor, including the skin, until medium chunky. Set aside.
5. Place the sugar and eggs in a large bowl and beat until light and fluffy, I used an electric whisk but you can easily do it by hand if you prefer.
6. Sift the flour with the baking powder then add to the mixture in the bowl a little at a time along with the softened butter. Continue to mix until completely blended, then stir in the yogurt and orange.
7. Spoon the batter into the tin.
8. Cook in the oven for 50-60 mins until a skewer comes out clean.
9. Leave to cool in the tin. Then melt the white chocolate and pour over, add some dehydrated slices of blood orange to garnish.