Fruit of the Month: Passionfruits
---
Passionfruits are somewhat of a kiwi icon. After all, they do go hand in and with another of our icons… the Pav!
More than just a great dessert topping, passionfruits are delicious! You will find many kiwi backyards nursing an impressive passionfruit vine. Hailing from the hot and humid rainforests of Brazil, where it is known as the granadilla, the passionfruit is as much a part of New Zealand cuisine as the essentially Kiwi feijoa.
These deep-purple delights are bursting with tiny seeds wrapped in golden pulp, and boast a taste so unique it's difficult to compare to anything else.
Whether decadently drizzled over a pavlova or ice cream or slurped right out of the skin, we are passionate about passionfruit!
Read on to learn a bit more about passionfruit - where they hail from, what goodness they contain, and the best ways to use them.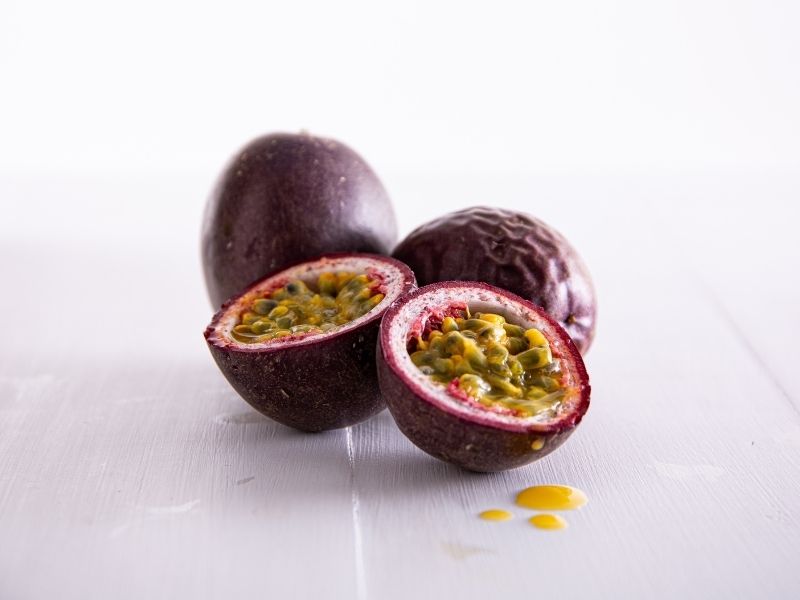 What Are Passionfruits?
According to botanists, a passionfruit is actually a kind of berry.
Growing on the Passiflora vine, there are two main varieties - falling under the purple or yellow-skinned forms. New Zealand's sub-tropical climate best supports Passiflora edulis, with a dark purple skin becoming wrinkled when ripe.
You may also find Passiflora flavicarpa growing in the warmer regions, but because this is a more tropical variety, it is not suited to commercial harvesting. These fruits are larger than the ones we know and love, and the skin is yellow.
The ancient Aztecs cultivated passionfruit, using them to make drinks and juices, much as we still do today. Nearly 400 years ago, the wider world was introduced to this fruity delight. In 1629, the fruit arrived in Europe, courtesy of some Spanish Jesuit missionaries.
Now grown commercially in many places around the globe, it is particularly favoured in Hawaii and Australia.
The Goodness They Contain
As well as delighting your taste buds, passionfruit pulp contains a variety of nutrients to support a healthy diet. The average passionfruit contains nine percent of your daily vitamin C requirement and eight percent of your vitamin A requirement.
In one slurp, you will also be getting two percent of your daily iron and potassium needs, along with a good dose of soluble fibre - and only 17 calories.
If that weren't enough, munching on a few passionfruit boosts your antioxidant intake, supporting a healthy immune system.
Although you won't find many people who enjoy chewing their way through the tough, purple skin of a passionfruit, there is some evidence that the high antioxidant levels it contains act as a potent anti-inflammatory when taken as a supplement.
The Best Way To Use Passionfruit
Passionfruit are in season in late summer and autumn. So, from February to July. Many backyard vines grow massively (up to 15 to 20 feet every year) during this time - producing bucketfuls to share with friends and family.
This oversized, fragrant berry is exceptionally versatile and adds a rich, delectable flavour to any dish. We Kiwis love it in desserts and sweet treats, like a classic passionfruit cheesecake.
Mix it with plain yoghurt for some added pizzazz or throw it into a juice, smoothie, or adult beverage! You can even try our very own Passionfruit Posset.
But you aren't just limited to sweet treats. You will find it delicious when used in many other recipes. The team at the NZ Passionfruit Growers Association even suggest a savoury passionfruit pizza, which sounds intriguing. Let us know if you try it!
Head on over to the store to see if our Passionfruits are in season right now. If not, we will have plenty of other delicious fruits for you to try!