Lemon Chicken
Twisted Recipes
---

Today I'm sharing one of Sandy's Mum's recipes.

Aside from being delicious, it's simple and packed full of lemon chicken goodness.
Just my kind of recipe :)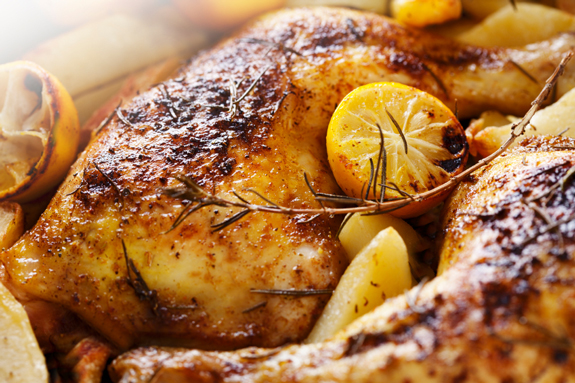 BUTTERFLIED LEMON CHICKEN
INGREDIENTS
1 large butterflied chicken
1T olive oil (or similar)
Generous pinch of rock salt
1c lemon juice
Zest of 2 lemons
2 cloves garlic, crushed
1t rosemary, finely chopped
1/2t ground black pepper
2T flour
50g butter
DIRECTIONS
Place the prepared chicken in a ceramic or glass oven-proof dish.
Pour over oil.
In a jug, mix together lemon juice and zest, garlic, rosemary and pepper, pour over chicken and baste a few times.
If time permits, leave the chicken to marinate for a few hours.
Sprinkle chicken with salt, then flour, then scatter with cubes of butter.
Bake for an hour at 180 C, basting often.
Check the chicken is cooked by inserting a skewer into the thickest part. It's juices should run clear.
Rest the chicken for 10 minutes before serving.
Slice the chicken, pour over a little of the pan juices, and serve.
Accompany with a green salad and roast vegetables.