The Benefits of Eating Fruit Regularly
---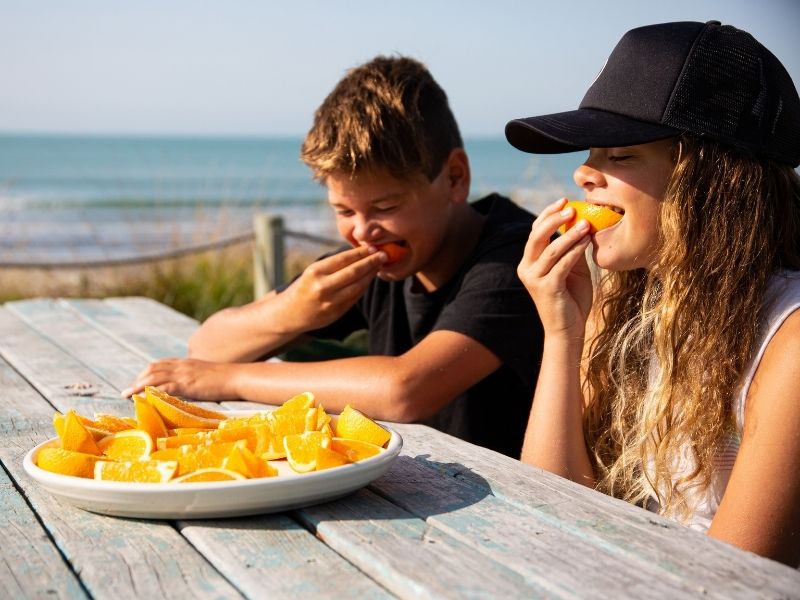 Fruit is NOT nature's candy; it's much, much better!
Sure, candy (or lollies, as we like to call them in our part of the world) is yummy. But, there's very little (aka nothing) in candy that is good for us.
Fruit, on the other hand, is delicious AND nutritious!
It provides many health benefits and, as part of an overall balanced diet, can help keep us strong and healthy for a lifetime.
Sounds pretty good, right?
So, what is it that makes fruit so amazing? Let's look at the highlight reel of the benefits of eating fruit on the regular.
Regular Fruit Eating Keeps You… Regular!
Dietary fibre is where it's at. If you are consuming your fruit in juice form, you are missing out on a whole lot of goodness – most importantly, fibre. Sufficient fibre intake helps keep things running smoothly in the digestive department and can decrease your chances of heart disease and obesity.
It turns out that most humans don't get enough fibre. So adding an apple, a kiwifruit, or some berries to your routine will help remedy that.
Antioxidants!
You will have heard of free radicals and the fact that they are not so good for your body. It turns out that the mere act of converting food into energy has some not so great side effects in the form of free radical production.
The good news is that you can balance out the equation by consuming a wide variety of fresh fruits, grains, and vegetables. These foods are all packed with different kinds of antioxidants, which counteract these potential disease-inducing molecules.
Boost The Immune System
So we have covered off the fact that fruit has antioxidant benefits to ward off free radicals. Along with that, fruits also contain a multitude of nutrients to support your immune system.
For example, vitamin C can help reduce the length and severity of cold symptoms in winter. We all know that citrus varieties contain lots of vitamin C, but so do red peppers, blueberries, apples and pears.
Convenient Snacks
Forget pre-packaged, pre-portioned, pre-cooked (and overpriced) snacks at the supermarket! Mother nature thought of that long before it became a thing!
Most fruits can be eaten as they are, or easily peeled and enjoyed for a quick, healthy snack. Slipped into a lunchbox or enjoyed right from the bowl, they are a nutritious way to get an energy boost at any time of the day.
Shiny, Luscious Hair
It takes more than just a bottle of shampoo to keep your hair looking and feeling good!
Vitamin A and C (along with a load of other vitamins and minerals) help keep it soft and silky. You can boost these vitamins by eating fruit like kiwifruit, strawberries, and pineapple. Some fruit can even be applied directly to the hair for instant results, such as avocado.
That is if you can bear smearing it on your scalp rather than eating it on a piece of toast!
Nourished Skin
Just as with your lovely locks, your skin relies on a variety of nutrients for nourishment. That includes those good old antioxidants (is there anything they don't do?).
We can't just choose one fruit for this category. Instead, eat the rainbow to cover the vitamin and mineral spectrum! Make sure you include berries, citrus, stone fruit, and any other variety you can get your hands on! That means avocados and tomatoes too.
Disease Prevention
There are as many studies about disease prevention as there are fruits on the planet. Enough of them show promising results from fruit consumption to encourage anyone and everyone to make fruit a part of your daily eating plan.
The numerous antioxidants, minerals, vitamins, micro and macronutrients, plus phytochemicals all play a role in reducing the risk of countless health problems – from strokes, diabetes and high blood pressure to indigestion and Alzheimers.
With all this talk about the benefits of eating fruit, have we made you hungry for delicious, in-season varieties now? Then head on over to browse our fruit box selection. Simply choose what you want and we will deliver it to your doorstep!